Standard Sized Shade Sails
Our standard-sized shade sails come in a selection of the most popular sizes and 5 colours.
Custom vs. Standard
Why Custom?
Custom-sized Shade Sails ensure that the Shade Sail not only fits your space perfectly, but compliments and enhances it as well. 
With over 20 years of Shade Sail designing, engineering and building experience, we know that a well-designed and well-tensioned Shade Sail performs exceptionally in stormy conditions, has the best shape for aerodynamics and provides the best slopes for rain runoff. 
Available in over 30 different colours and shipped straight to your door, our Custom-size Shade Sails are the perfect shading solution for almost any application. Click to learn more.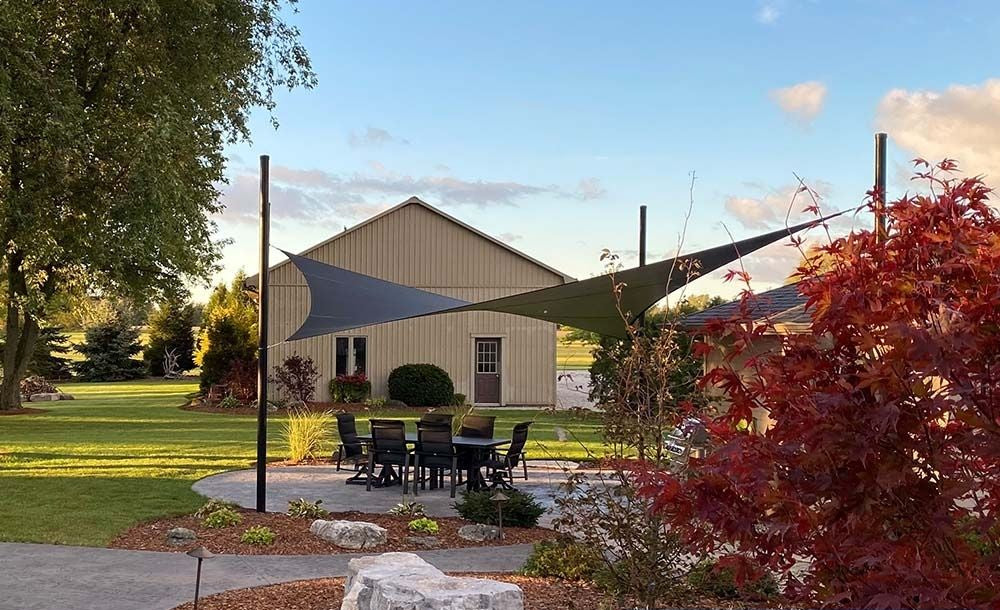 Waterproof?
Although most of our Shade Sail fabrics are not waterproof, with proper design and installation we can ensure that they efficiently shed water. A fine mist may still pass through the fabric, but the majority of rain will be directed to the low points of your Shade Sail where even the heaviest rains will easily run off.
Check out our Waterproof Shade Sail page for more details.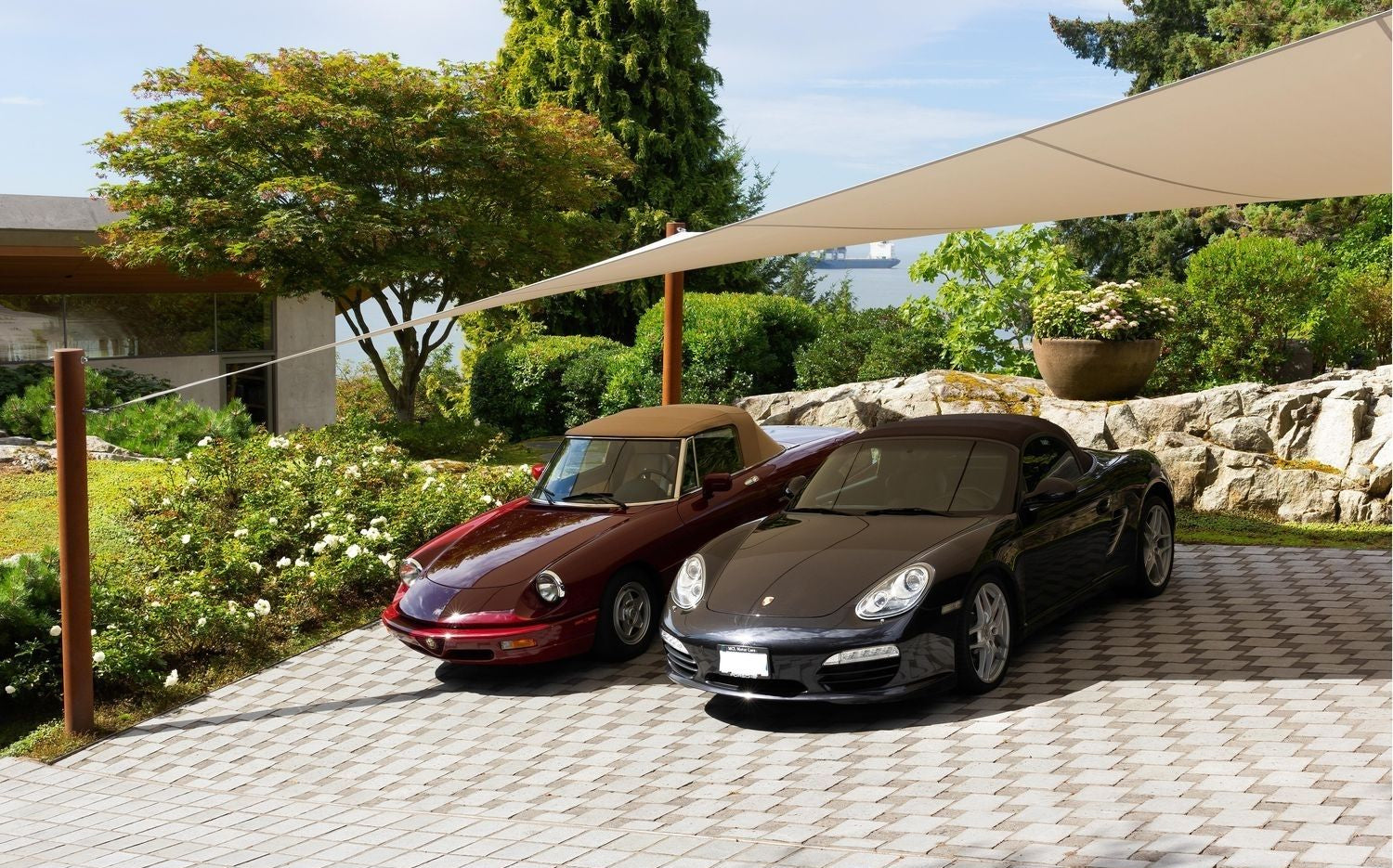 Finding the Right Shape
A Shade Sail can be designed in any shape or size, and range from 3 connection points up to 10 or more. This flexibility in design is beneficial as it allows you to maximise the shade coverage for your area.  
Having more than 3 connection points allows custom shapes to be incorporated into your Shade Sail design which will function more effectively than a simple triangle.  
A shade sail does not necessarily need to be symmetrical - we can design the size and shape to fit within your area.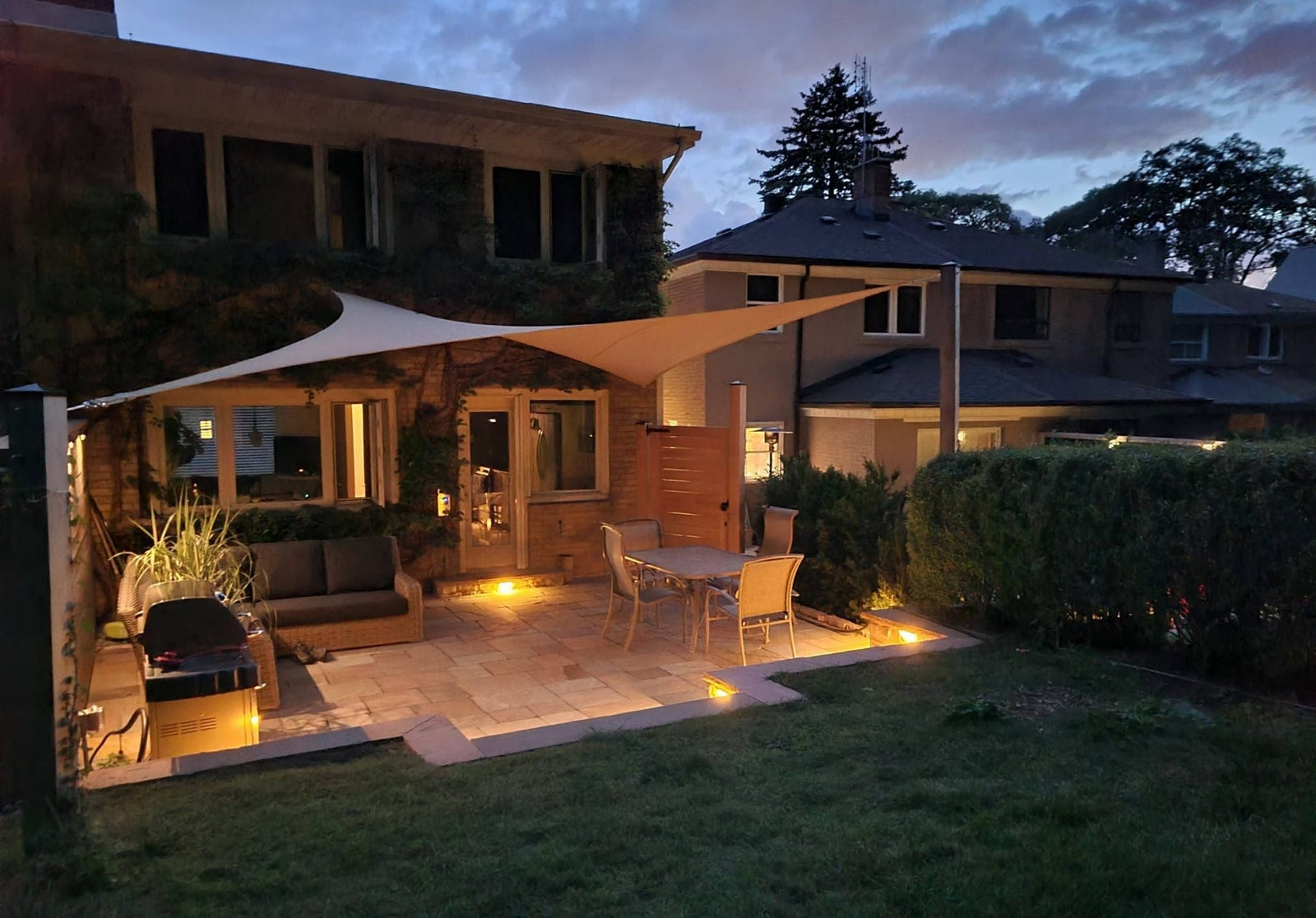 colour coordinating
Fabric Selection
Shade Sails Canada offers almost every colour of fabric under the sun. 
Our specialty fabric is extremely durable, highly fade-resistant and tear-proof. Warrantied for up to 15 years, it provides protection from harmful UV rays as well as substantial cooling for your outdoor space.
For more info, please visit our Fabric Page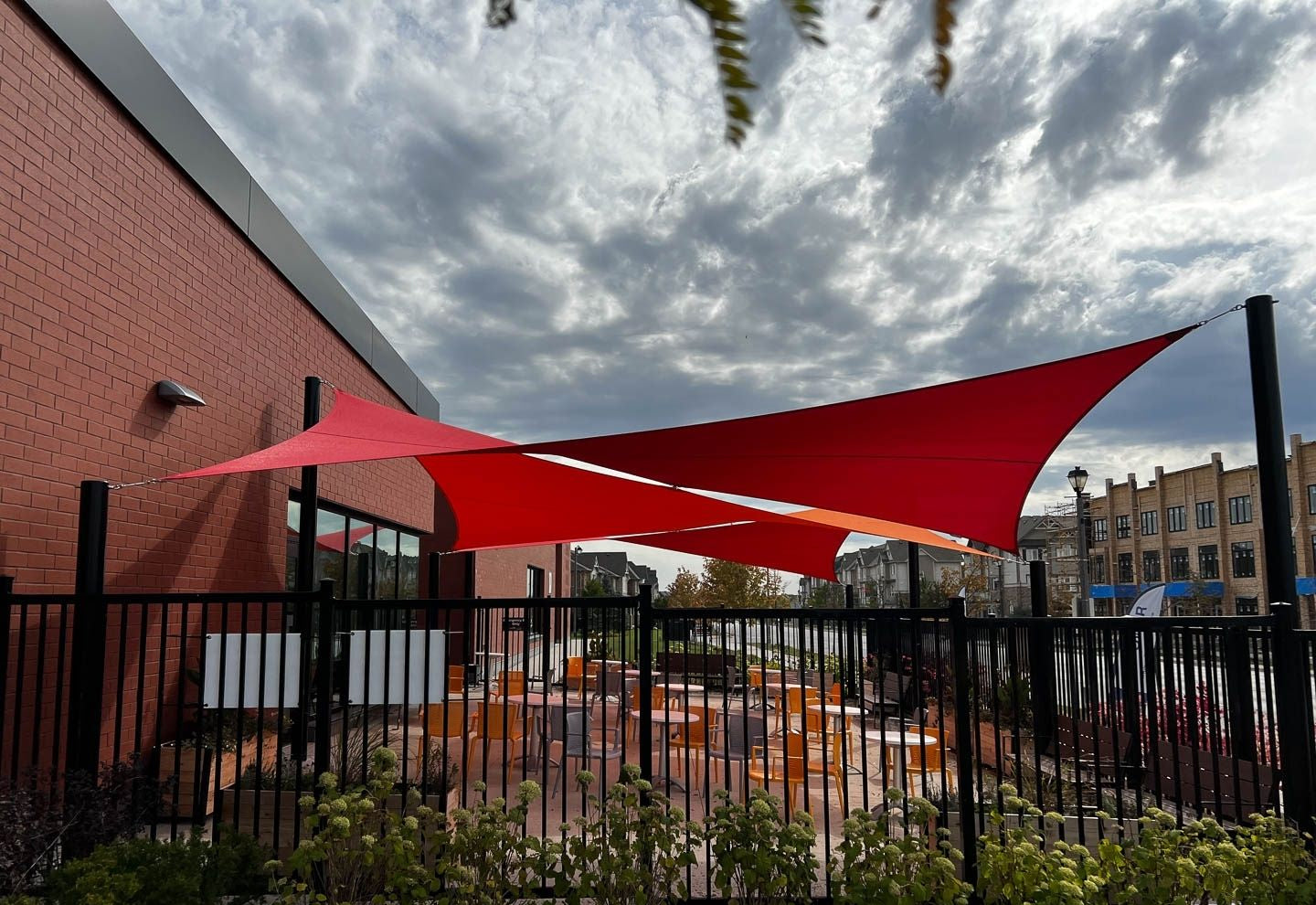 shade anchors
Where to Attach My Sail?
Shade Sails are extremely strong and durable systems, but are only ever as strong as their attachment points. We will work with you to ensure your existing structures, posts or frames are substantial enough to withstand the load from these tensioned systems.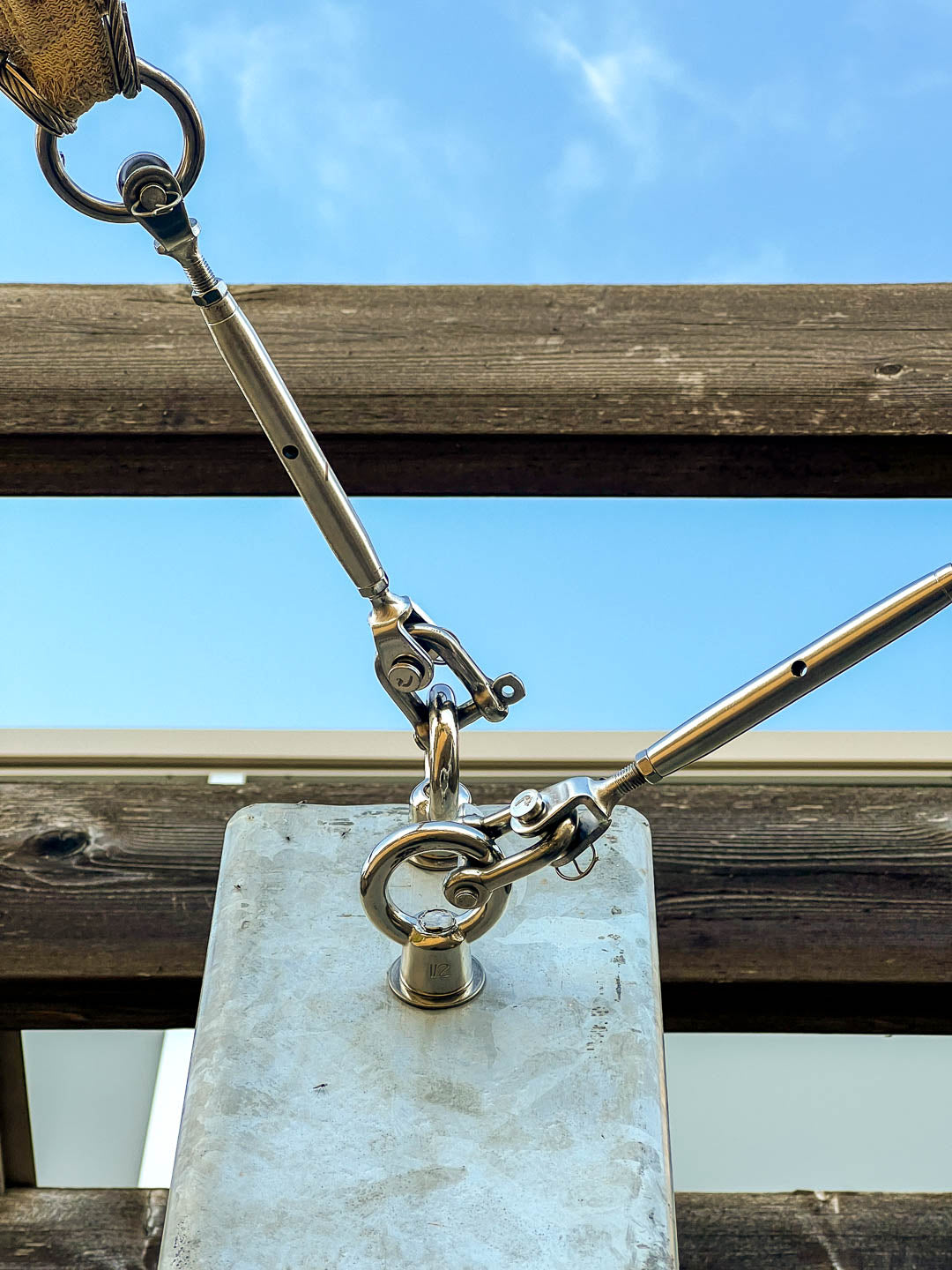 How to gauge the height of your Sail
Varying the heights of your attachment points is the best way to create captivating shapes with your Shade Sail. For example, with 4 points we can create a beautiful hyperbolic shape by alternating high and low attachment points. This hyperbolic shape is also aerodynamic and allows for proper rain runoff. 
To learn more, watch the accompanying video or read more about Sail Height Variance here.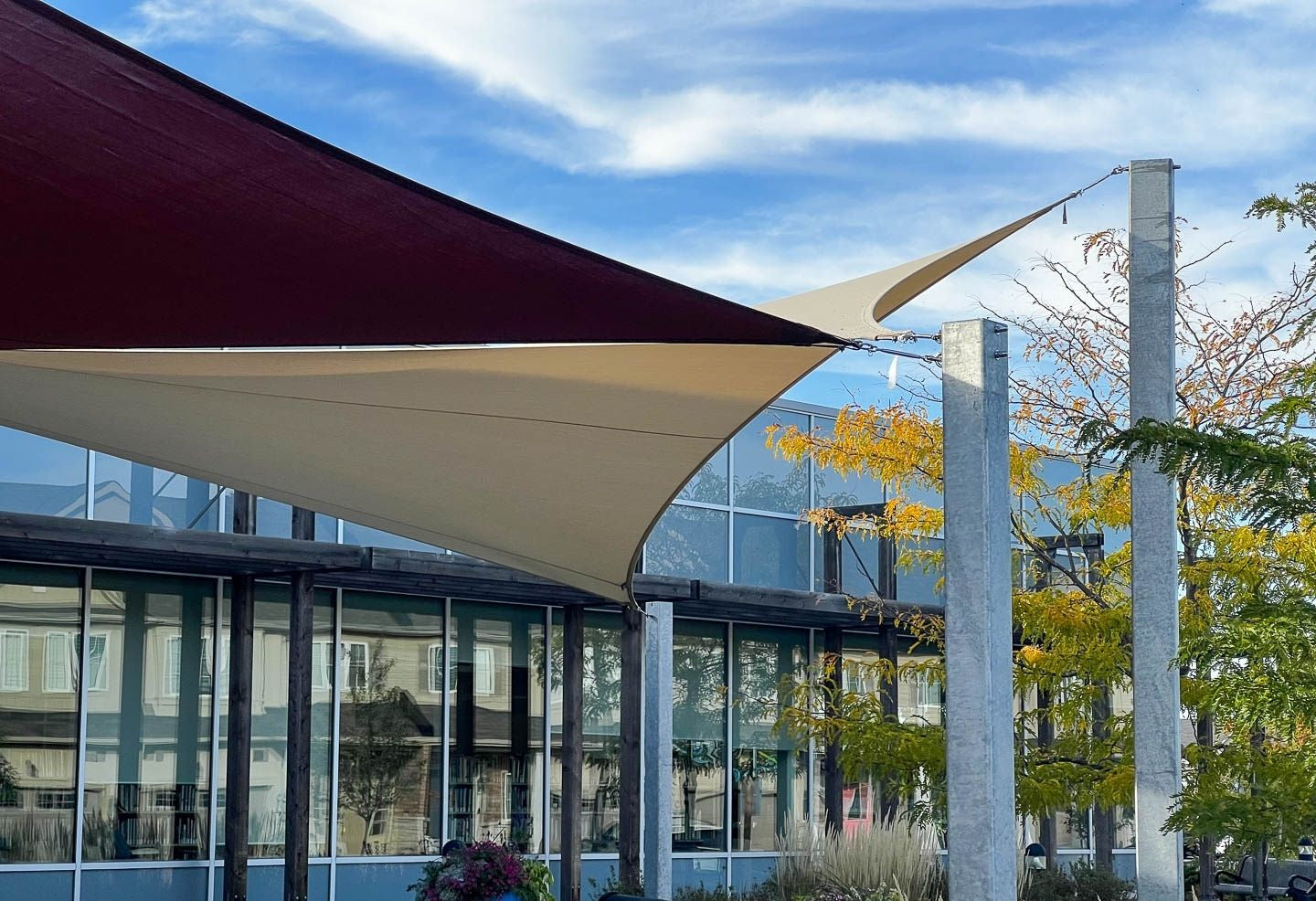 What's Included with My Shade Sail?
The hardware you will receive depends on the product you purchased; standard and custom shade sails are supplied with different hardware.
All hardware kits contain every piece of hardware you require to attach your sail to your attachment points. You will need to purchase any attachment point hardware separately, you can view the different options for this here.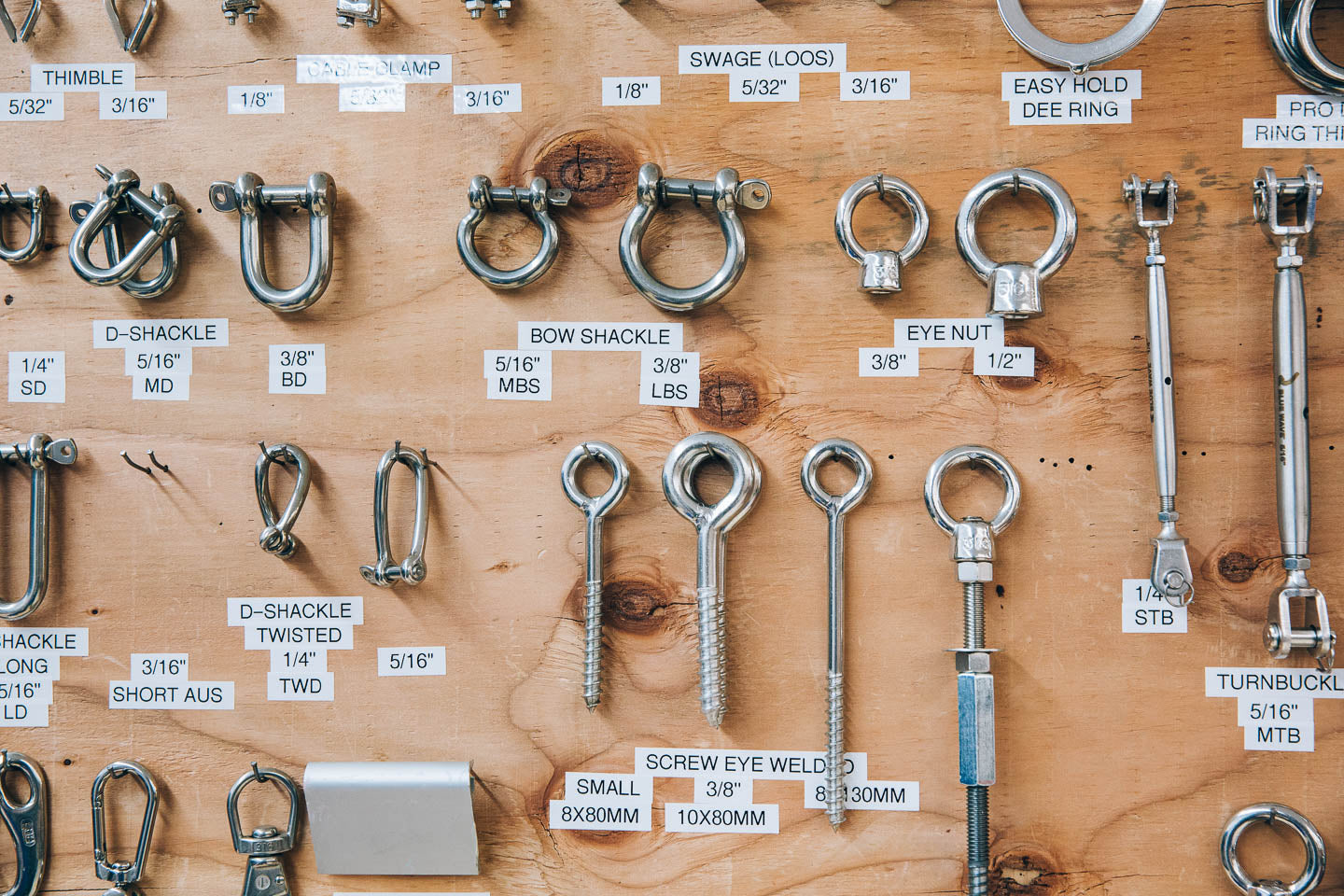 Shade Analysis & Design
Determining the shade coverage that your sail will provide, especially at different times of the day is essential for your overall comfort and enjoyment of your space.
We encourage you to work with our in-house Shade Analysis & Design Team to create the ideal solution for your space. We will provide you with custom 3D renderings as well as all the information you'll need to complete your project, including a full list of installation materials
Visit our Shade Analysis & Design page for full details.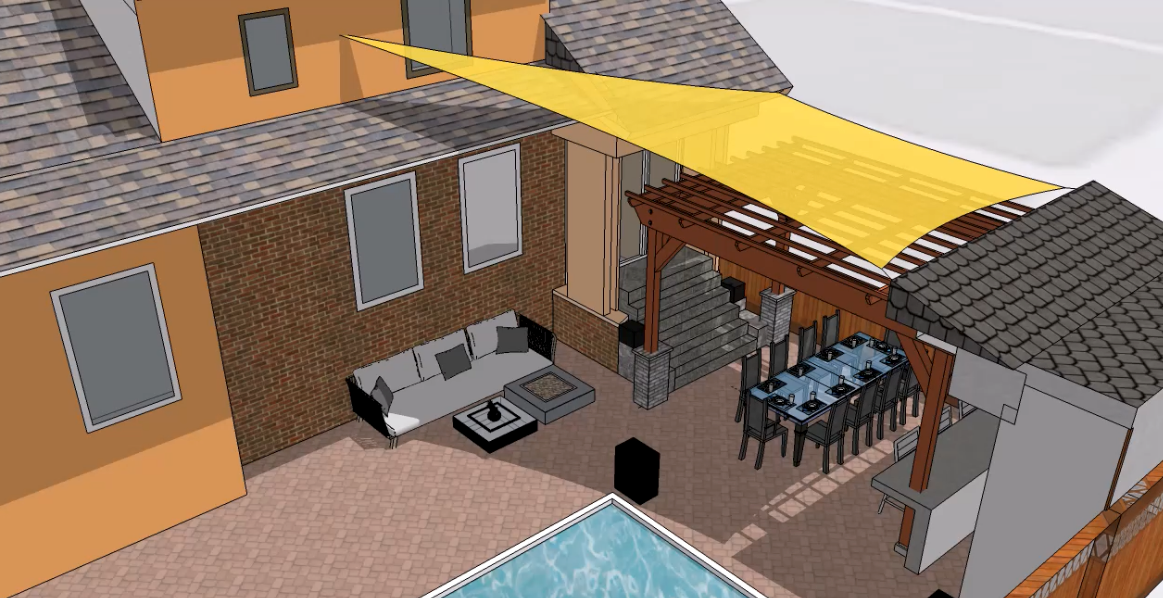 Frequently Asked Questions
Can I hire Shade Sails Canada to help design my shade project?
How long does it take to receive my sail?
The vast majority of our products are made right here in Revelstoke, BC. We aim to have these to you within two weeks, but during the summer months please allow for 10 working days for manufacturing, and we will ship as soon as it is completed. We also sell products from a small select group of partners (for example our pergola kits), shipping will vary per product but shouldn't be any longer than the products we make in-house.
At checkout, if purchasing a Shade Sails Canada product, you can choose between several shipping times, please bear in mind that these times do not include the manufacturing process mentioned above.
Is shipping included? Where do you ship to?
We offer FREE shipping via UPS courier for orders over $500. Additional express shipping is also available at additional cost.
Why are flat Shade Sails inferior?
We always aim to provide Shade Sails that are not only well-tensioned but perform optimally too. A flat Shade Sail - meaning all the anchor points are at the same height, or the Shade Sail lies on a perfect slope with both high points at the same height and both low points at the same height - will always catch the winds. This is why we prefer to alternate and vary anchor heights to get more shape out of the Shade Sail and give the system better aerodynamics. Designed by Shade Sails Canada and installed following our instructional videos, your Shade Sail should be extremely rigid and you should experience very little to no movement at all in your Shade Sails, especially in periods of higher winds.
Are the posts included?
It depends! In a commercial setting, we provide full turnkey solutions whereby we oversee not only the fabrication and finishing of steel posts but the installation of them as well. In a residential setting, we provide you with all the specifications pertaining to your posts, whether they be steel or pressure treated wooden posts. You can read more about posts here.
Do I have to take it down in the winter?
It is best for the longevity of your Shade Sail to avoid heavy loading from snow. If you live in a place that gets snow, your Shade Sail is best used from Spring, through the Summer, and into Fall. Removing your Shade Sail before the first snow of the year will help to extend the life of your product.