Vertical Shade
We offer Vertical Shade solutions that provide additional privacy and shade. Custom designed to fit any dimensions and available in a wide range of colours, our Vertical Shade products are a great way to enhance your space.
colour coordinating
Fabric Selection
Our Vertical Shade products use our high-quality Commercial Grade Light fabric. This fabric is extremely durable, and highly fade, rot, tear and mould-resistant. Warrantied for up to 10 years, it provides protection from harmful UV rays and is available in an array of 22 eye-catching colours. For more info, please visit our Fabric Page.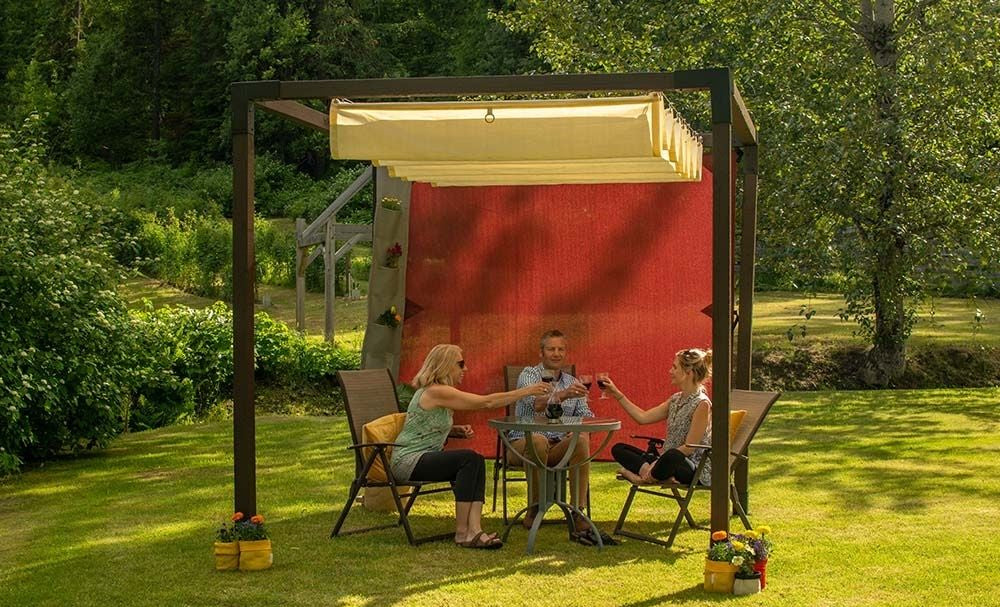 Attachment Points
Choosing the right attachment points is key to the performance and longevity of your Vertical Shade. We will work with you to ensure the attachment points on your existing structures, posts or frames are appropriate.

Click here to learn what attachment options are best for you.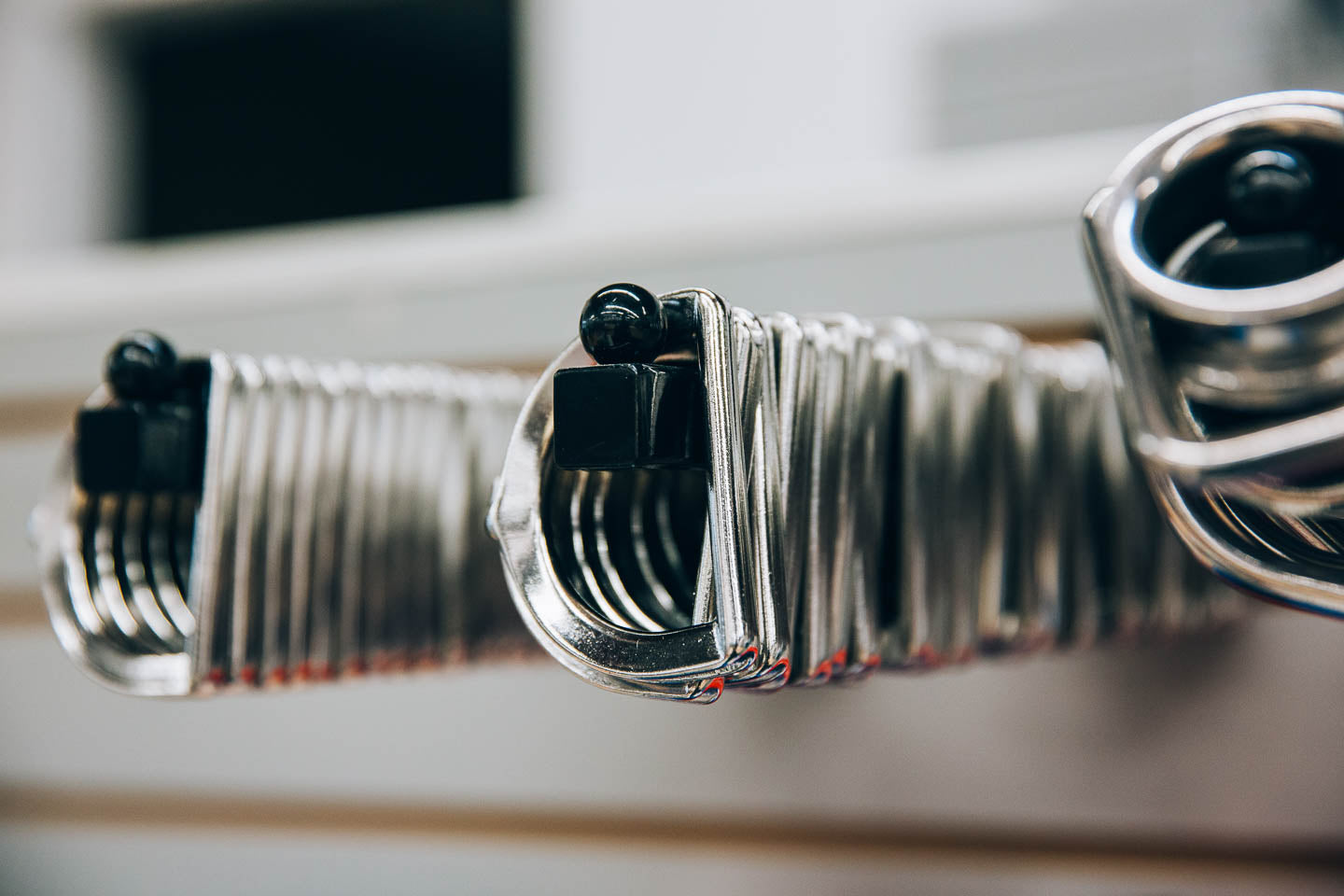 Transparent Privacy
Vertical Shades, whether a Shade Sail under tension or a Privacy Shade Panel, offer various degrees of privacy from neighbours or nearby traffic. It's important to keep in mind that different colours provide different degrees of opaqueness/transparency. It's best to contact one of our Shade Architects or read the FAQ's below.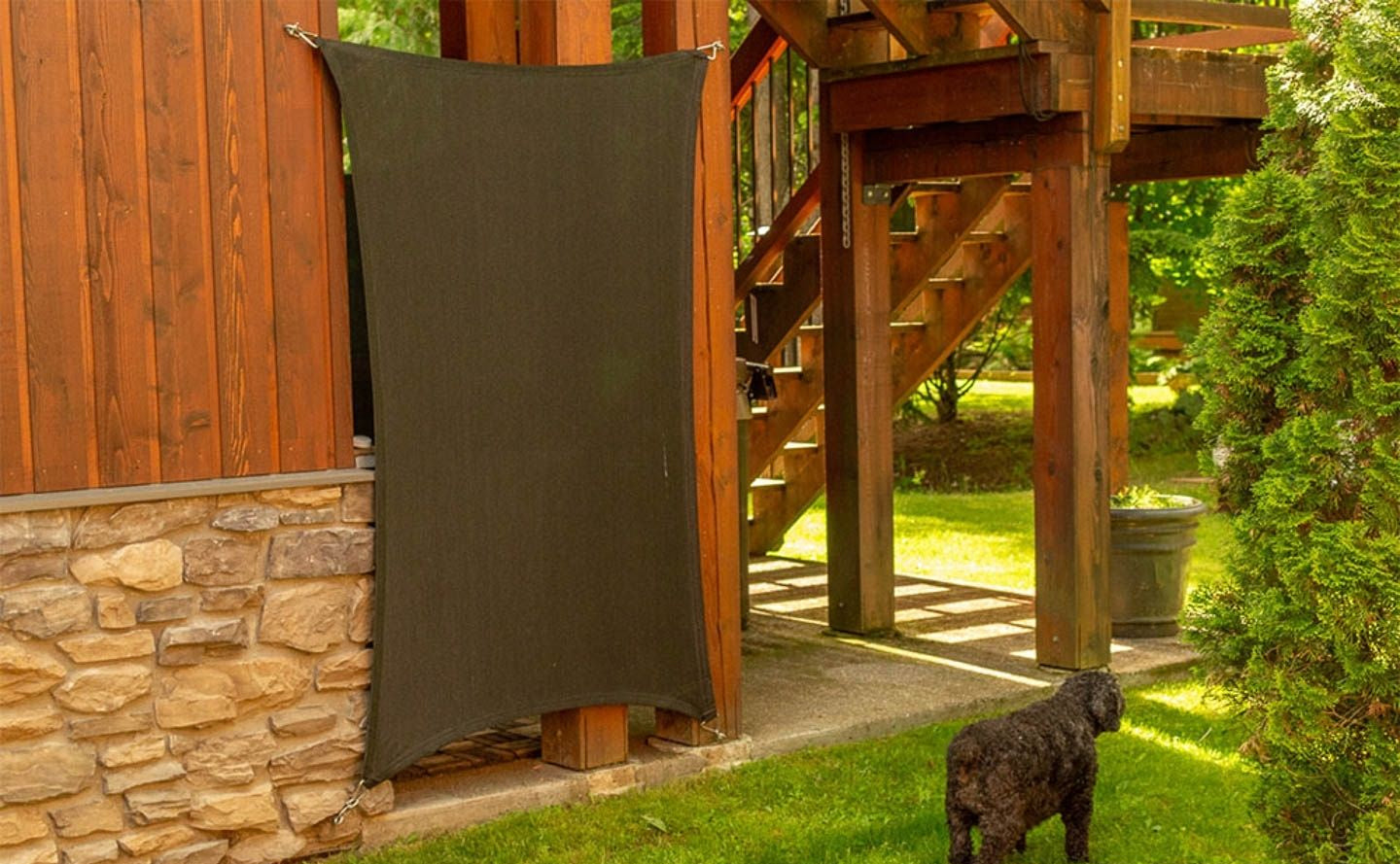 The perfect shelter
Windbreak
Vertical shade systems are an ideal way to reduce the annoyance of strong wind gusts and even blowing snow while still providing heat reduction and privacy during the hot summer months. These applications are best suited to a fully tensioned, vertical shade sail that can withstand the forces rather than a semi-tensioned Privacy Shade Panel.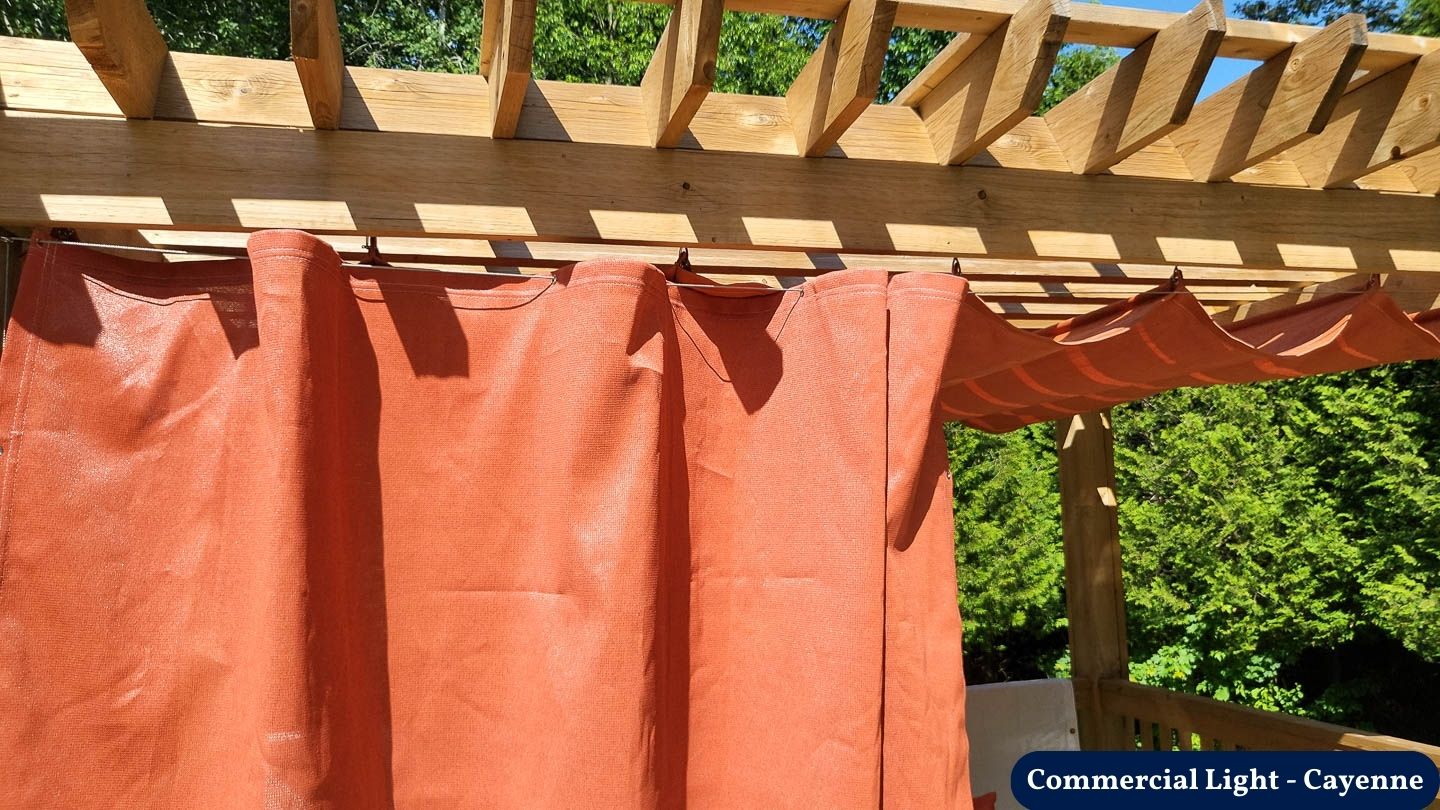 Fixed vs. Retractable
Our Vertical Shade Sails are fixed, with a tensioned with a Stainless Steel cable around the perimeter. This ensures they are able to withstand high winds and even snow.
Our Privacy Shade Panels are designed to be retractable, which gives you the freedom to open and close as needed.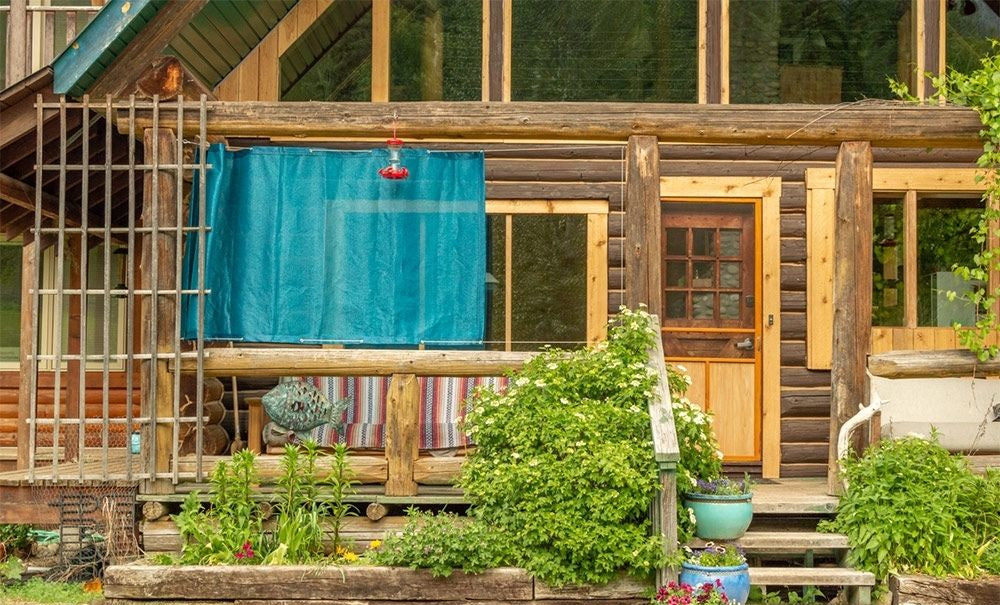 What's Included with My Vertical Shade?
All of our attachment hardware is made from Marine-Grade Stainless Steel, designed to last a lifetime and is included in your purchase of any vertical shade option*.
Shipping is included for all orders over $500, and most products are shipped in a winter storage bag.
(* for Vertical Shade Sails, Anchoring hardware needs to be purchased separately, as it is dependent on the material type and width of your anchoring points).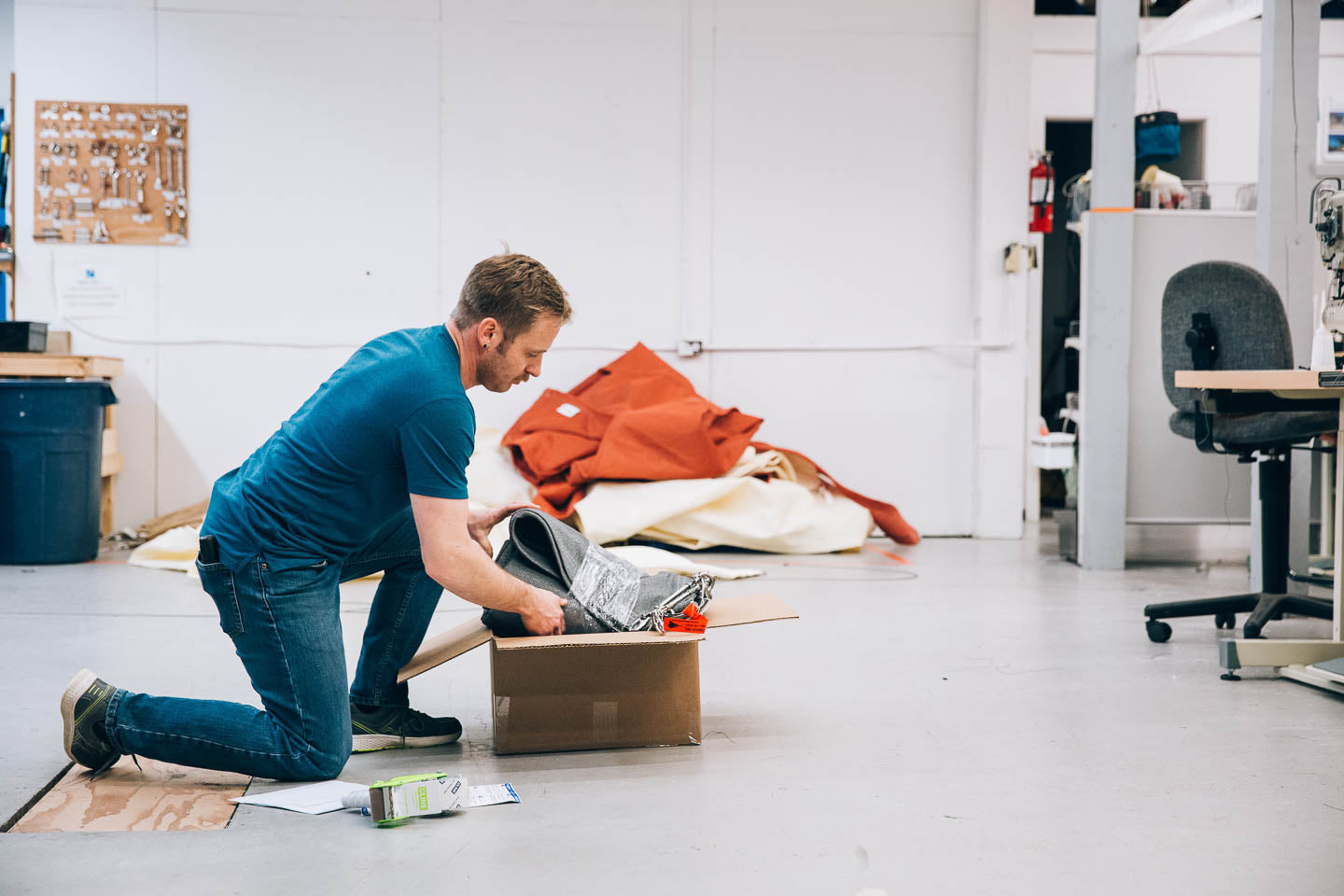 Frequently Asked Questions
How transparent are your Privacy Panels?
Our Privacy Panels, which are produced using our Commercial Grade Light fabric, have a degree of transparency to them if set in the right light. The general rule of thumb is that the darker your colour choice is, the less transparent your Privacy Panel would be. Lighter colours tend to allow more light through, increasing the panel's transparency.
I want more privacy at night - is black my best option?
Surprisingly, no, it's not. Keep in mind that our Privacy Shade Panels are manufactured with our Commercial Light fabric, which is a porous fabric. We have found that darker colours provide more privacy at night when a backlight is not being used. If a backlight is being used, we recommend looking at a lighter colour. If, for example, you were seeking privacy around your hot tub and you are sitting in the dark because you're admiring the stars - a dark colour Privacy Shade Panel would work best. This would provide some privacy in daylight as well. In the same scenario, if a light is turned on above the hot tub, a lighter colour Privacy Shade Panel would provide more privacy. This can have a very similar effect to a frosted window. In most scenarios, darker colours would provide more privacy. In well-lit areas, a lighter coloured Privacy Shade Panel would provide more privacy.
What cabling option is best for my pergola at home?
Good question! We have 2 different cabling options that only pertain to our Privacy Shade Panels. Firstly, we have our looped cabling system. This cabling system runs the full perimeter of the space you are looking to cover or protect. This looped system runs along the floor as well so this application is ideally for an area that receives no foot traffic. The second cabling option is our L-shaped cabling system. This cabling system runs up one post or wall, along the ceiling of the space you're looking to cover or protect and down the other side again. It does not run along the floor. This is great for areas that receive a lot of foot traffic. It also means that the panels are not connected to anything along the bottom, allowing more of a flow effect than the looped cabling system. 
Our Roman Shade cabling system is a standard perimeter cabling that is cut to size based on the measurements you provide to us.
I live in a windy neighborhood. Will Privacy Shade Panels help with this?
Yes, definitely! Although our Commercial Grade Light fabric is porous, it is very tightly woven. This improves the fabric's ability to perform in all weather conditions with the exception of snow loads. Your Privacy Shade Panels will not reduce winds completely, but will block and reduce the vast majority of winds and gusts.
Is there a maximum length or height for your Vertical Collections products?
As long as the Privacy Shade Panels are supported along the way, either along the top or both the top and bottom, we can go as far and wide as you need. Remember that the bigger you make them, the heavier they become and the more challenging they'd become to install or remove. In terms of both products, Shade Sails and Privacy Shade Panels, we recommend lengths no longer than 25 ft in a single span. If you'd like to cover an area that is 34 feet, we would suggest breaking it up into more manageable sections - 2 x 17 ft long sails or panels would be easier to manage. If you're unsure, one of our Shade Architects will be more than willing to help you out. You can send us your inquiry here.
Why would I want a vertical tensioned Shade Sail?
A tensioned Shade Sail has a cabling perimeter as well - except it lies within the fabric itself. A Shade Sail would sit a lot tighter against or within the structure you're looking to cover or protect. A Shade Sail can be used for privacy as well but won't be retractable on-demand. In an application where privacy is desired on a more permanent basis, a Shade Sail would be a better option. This would act more as a temporary wall, whereby it would not move or sway in the winds. To ensure your Shade Sail fits your space perfectly, visit our Custom Shade Sails page!