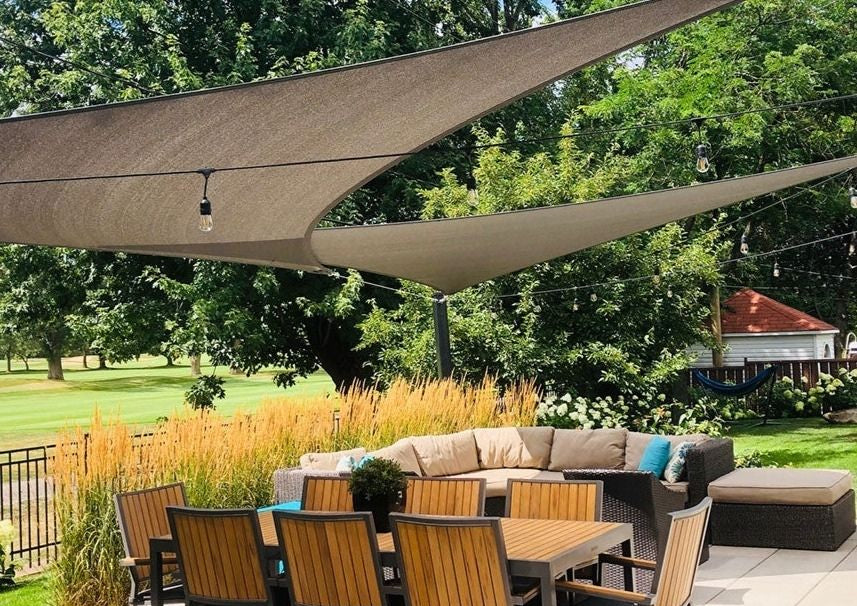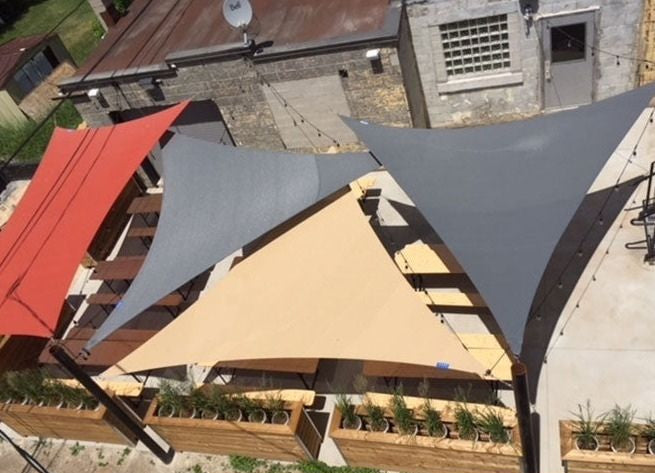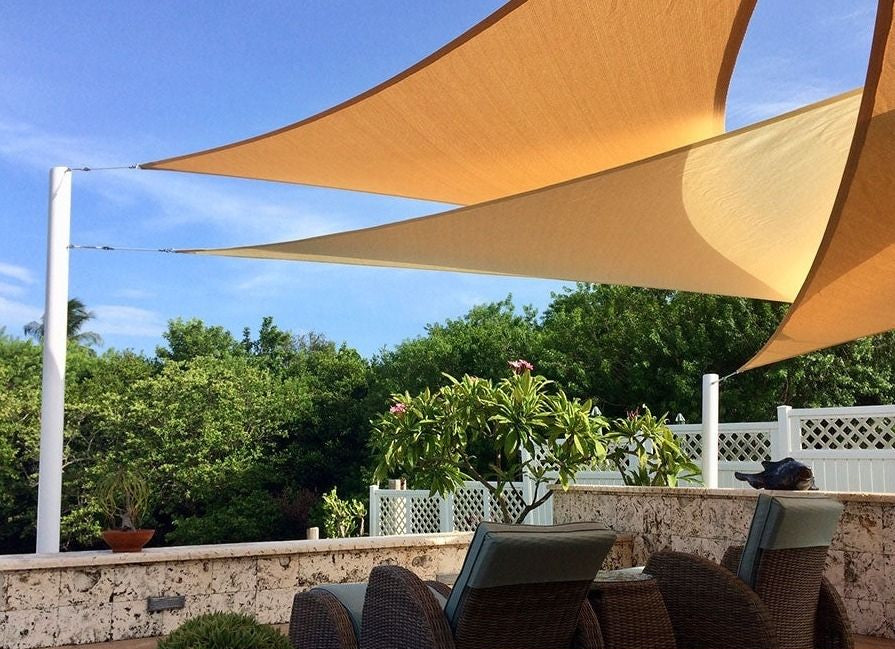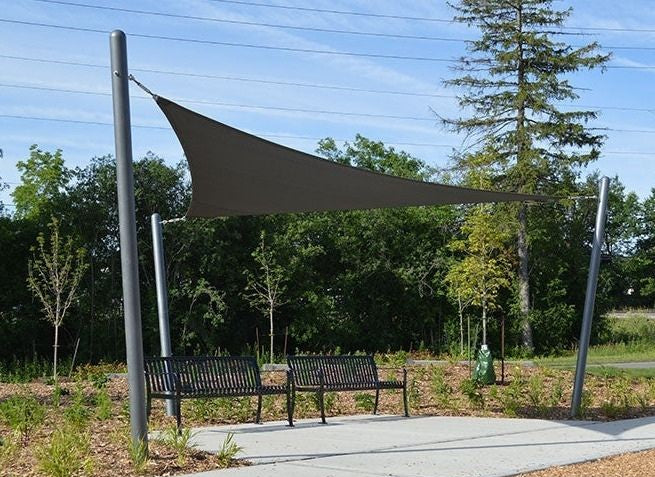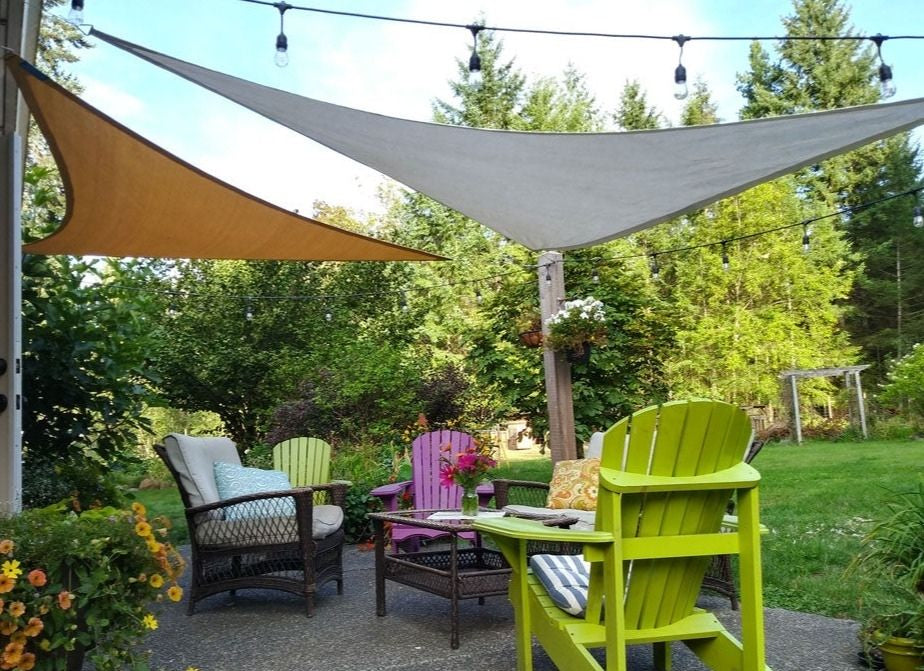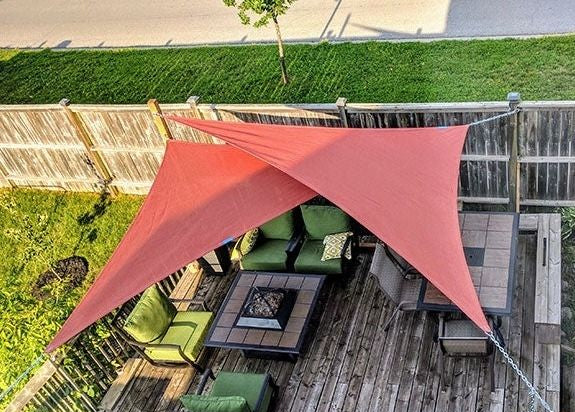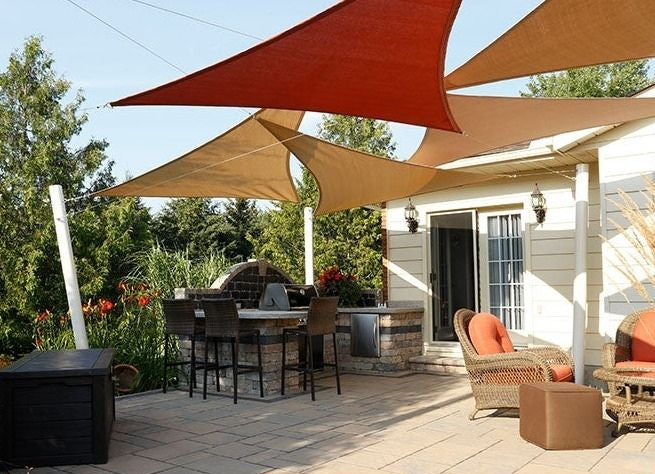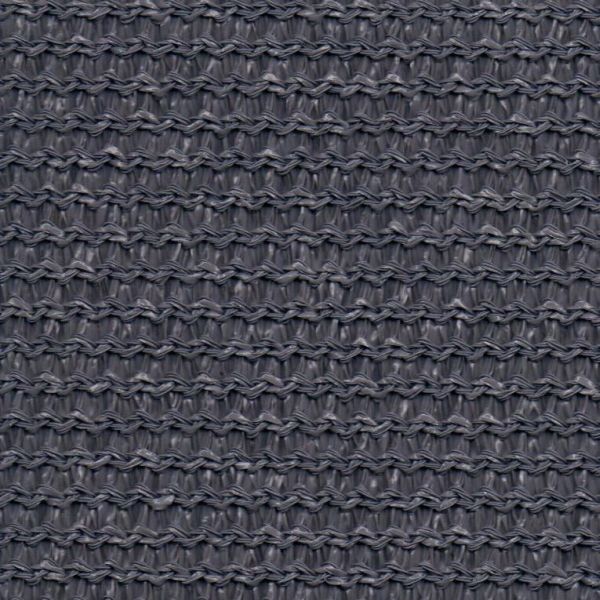 Shade Sails Canada
Standard Sized Triangle Shade Sail
Regular price
$535.00 USD
Sale price
$535.00 USD
Regular price
$535.00
A Triangle Shade Sail is an excellent choice for those who have minimal attachment options. Offering less shade than a square or rectangular Shade Sail, a Triangle Shade Sail is typically lighter and perfect for those who have, for instance, two anchor points on their house and one post. All standard-sized shade sails come with our Advanced Tensioning System and Hardware Kit.
15-year UV warranty

Fade & tear-resistant UV stabilized shade fabric

Double-stitched seams & triple-layered reinforced corners  

Marine-grade 316 stainless steel hardware
colour coordinating
Fabric Selection
At Shade Sails Canada, we offer quick and simple shading solutions. Our Standard-size Shade Sails are prefabricated and ready to ship.
We use our high-quality Commercial Grade Light fabric, which means you still receive the 10 year warranty that is applied to this fabric. UV degradation, rot and mould are all covered by this warranty, with this fabric being tear-proof and fade-resistant too!  
Our Standard-size Shade Sails are available in our 4 most popular colours!
For more info, please visit our Fabric Page
finding the right shape
Triangle vs. Quadrilateral
Our Standard-size Shade Sails are available in both 3-Point and 4-Point options. Each shape is also available in our most frequently requested sizes to make this process that much easier for you! 
The measurements for each sail are taken when the sails are not under tension, so it's important to ensure that you have sufficient spacing to allow for hardware, as well as some stretch in the fabric.
Not to worry - we have laid out the appropriate site dimensions for each Standard-size so you're able to easily order the correct Shade Sail for your space. We cover this in the next tab!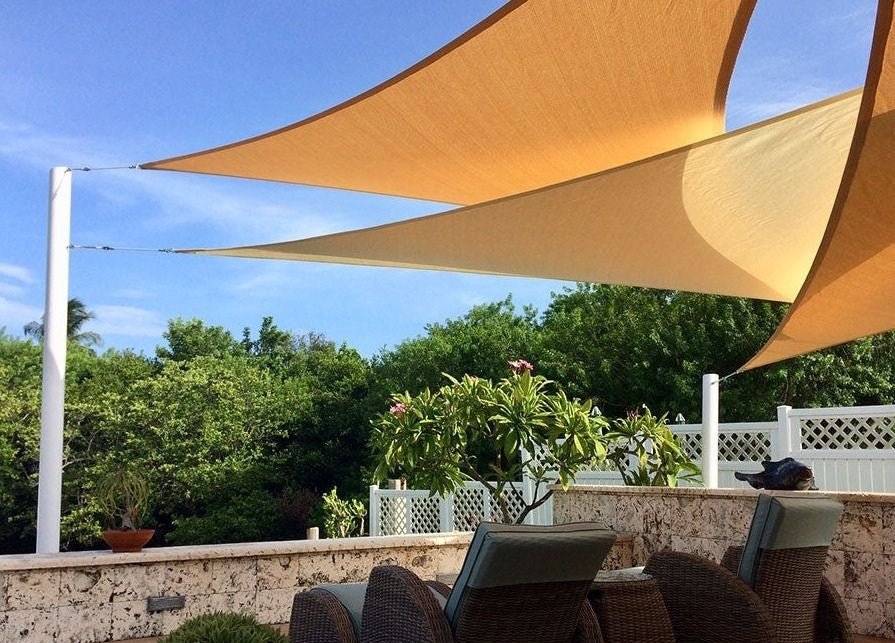 shade anchors
Where to Attach My Sail?
Shade Sails are extremely strong and durable systems, but are only ever as strong as their attachment points. We will work with you to ensure your existing structures, posts or frames are substantial enough to withstand the load from these tensioned systems. 
It's important that your anchoring points are strong enough to withstand the tension and forces that are applied when flying a Shade Sail correctly. You should also allow sufficient space for hardware and predetermined stretch that is an integral part of your Shade Sail. 
Because of this, we've created illustrations of the correct site dimensions to not only help you envision your space, but also to ensure that you have enough space to properly install and tension your Shade Sail.  
When it comes to anchoring your Standard-size Shade Sail, we recommend using our Marine Grade Stainless Steel Anchor Hardware - specially chosen to perform exceptionally under all weather conditions for years to come.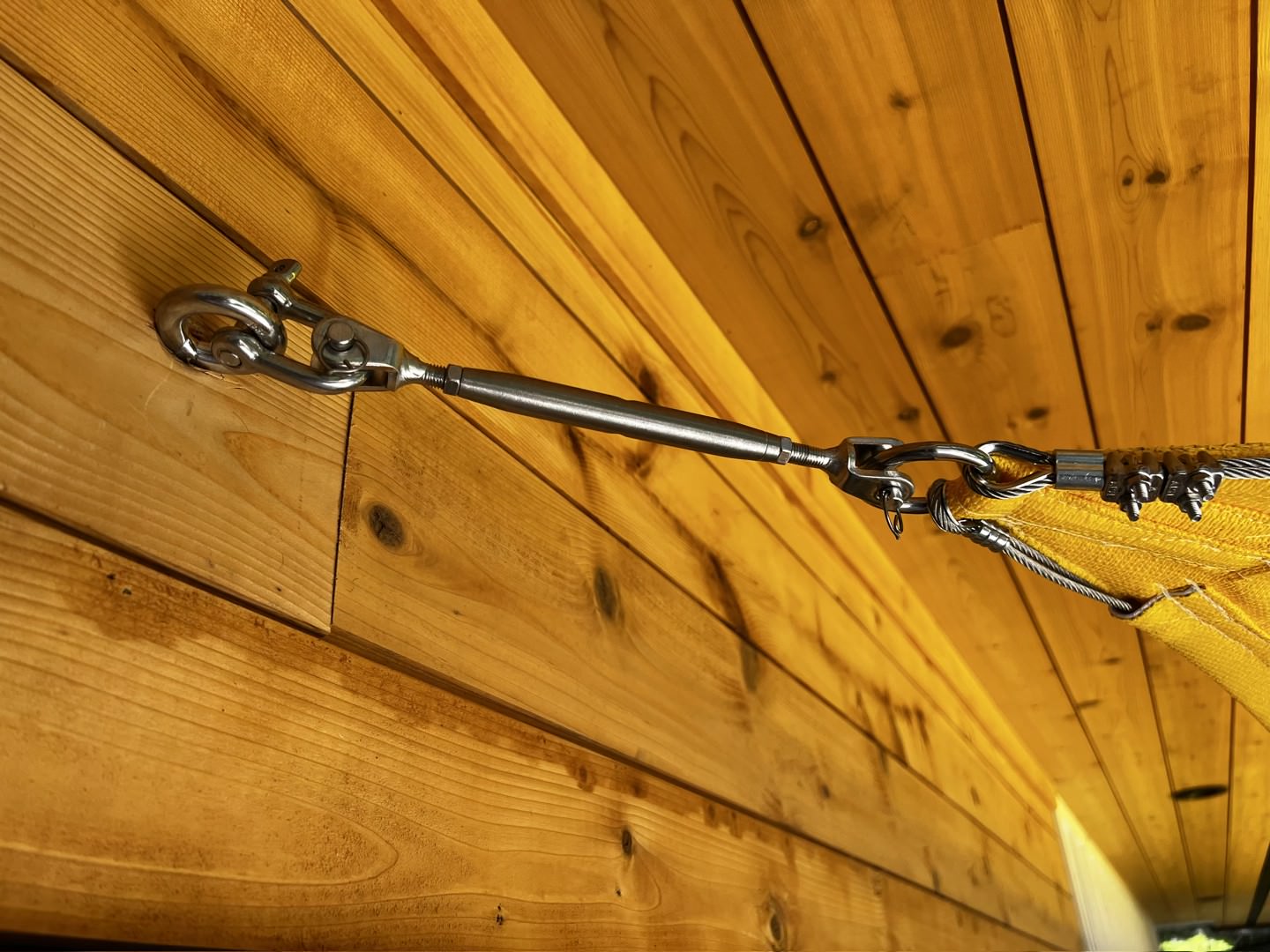 How to gauge the height of your Sail
We often say that our Shade Sails are the best combination of fashion and function, with the sails not only looking incredibly appealing and artistic, but are also aerodynamic in high winds, excellent at shedding water and most importantly providing shade coverage where it's most desired. 
In order to achieve this, we look at varying the anchoring heights. Diagonally opposite high and low points help achieve what is called a hyperbolic (twisted) shape!
In measuring your space for a Standard-size Shade Sail, it's important to keep these height variances in mind. Your measurements should always be from one intended anchor point to the next, and the heights taken from a common reference point - whether it be the flat ground upon which your posts or building sits, or the lowest common point that your anchoring posts or wall share.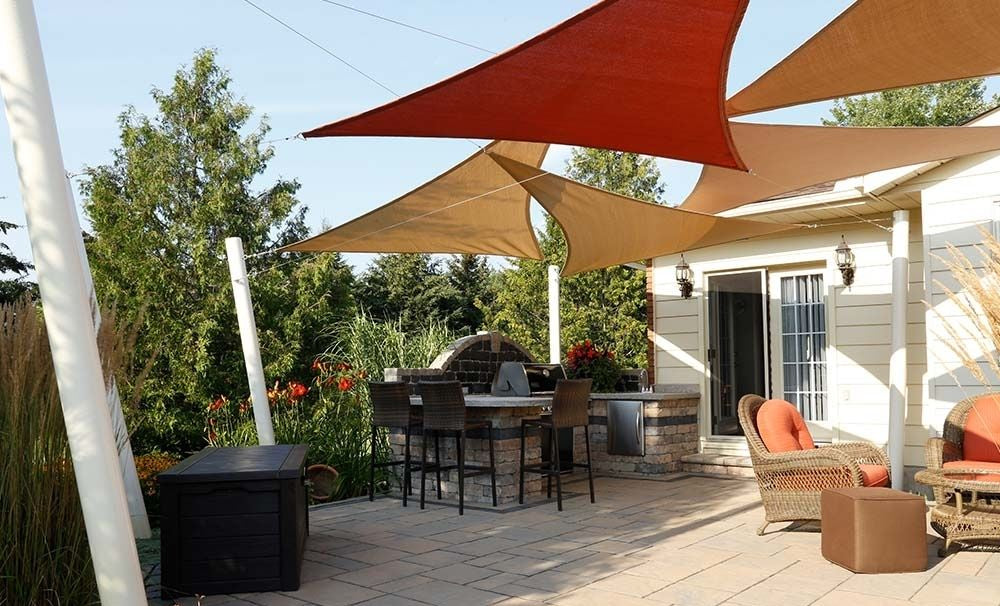 What's Included with My Shade Sail?
Our Standard-size Shade Sails are manufactured and shipped fully-cabled with all the appropriate Marine Grade Stainless Steel tensioning hardware conveniently installed. They are ready-to-fly with our Advanced Tensioning System, Double Stitched Seams and Triple Layered Reinforced Corners. 
We also take care of shipping costs for you, and our Shade Architects are always ready and willing to take your call should you have any questions regarding fitting your Shade Sail or tensioning it correctly. 
Because every installation is unique Anchor Hardware is not included and must be purchased separately.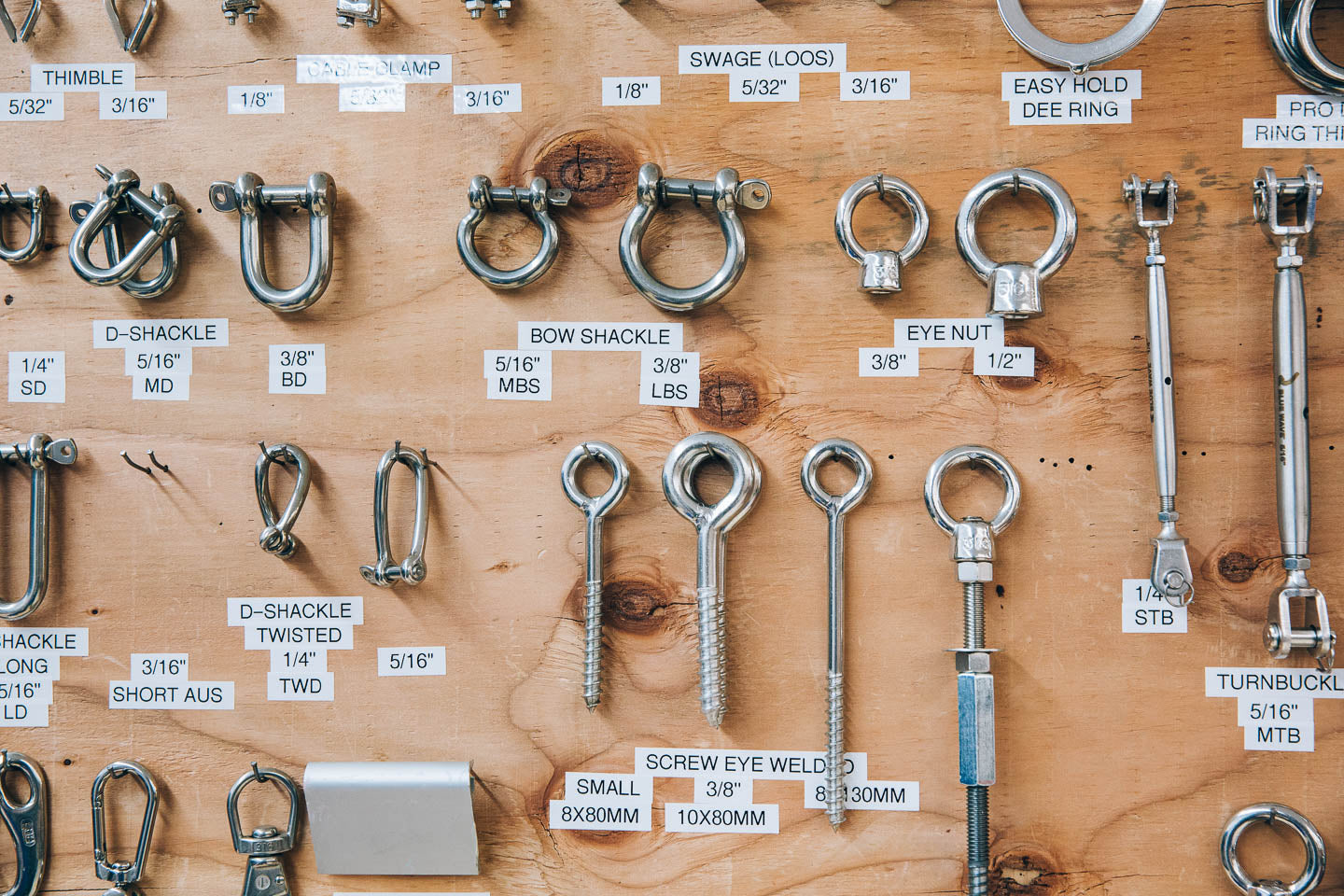 Custom vs. Standard
At Shade Sails Canada, we specialize in custom-sized shade solutions. We believe that every shade product should fit perfectly and complement your outdoor space. We offer both standard-sized products in a limited range of the most popular sizes and colours and custom-sized products, which can be made to fit any space. We recommend using the calculator on the Custom Shade Sail page to determine the cost for your project and viewing the colour range to see which fabric would fit best for your space.
Using the right shade sail for your space is essential in ensuring proper tensioning and validating your warranty. Please read our shade sails sizing guide.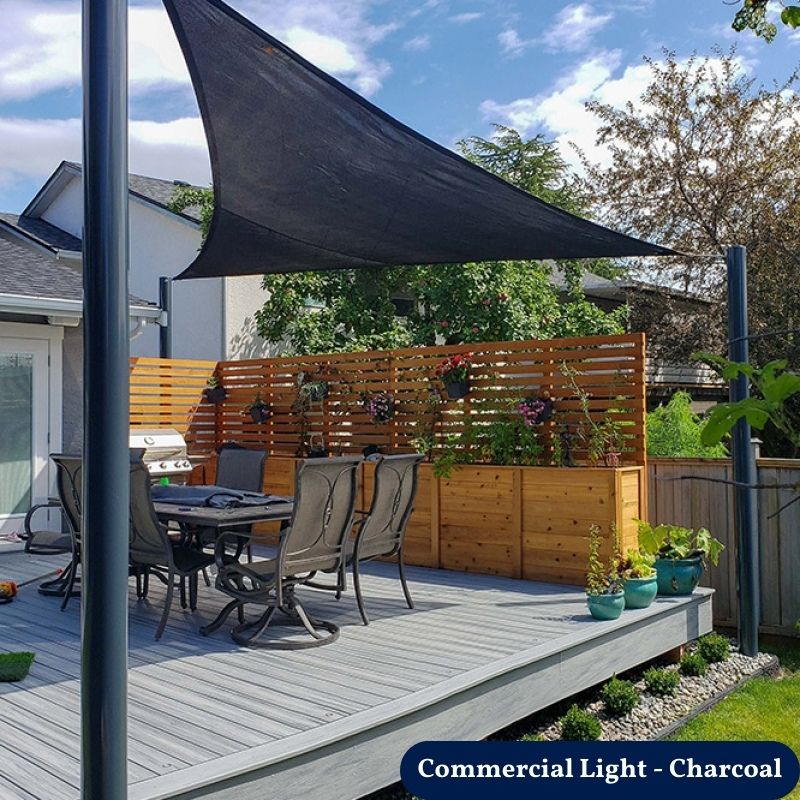 1 — Anchor Points

The first step in ordering your Standard-size Shade Sail is ensuring that your intended anchoring points are strong enough to withstand the forces from properly tensioning your sail.

2 — Measure

Accurately measure the space between the points you intend to use as anchors, considering their respective heights above ground.

3 — Choose Shade Size

Cross-reference the perimeter measurements of your space with the sizes of our standard-size Shade Sails. If your measurements are too close to decide, size down.

4 — Choose Your Colour

We have 4 of your favourite colours in stock! Check them out and choose one. We know this is the tough part.

5 — Choose Your Anchor Hardware

We offer a broad range of specially selected Marine Grade Stainless Steel Anchor Hardware for you to attach your Shade Sail to a variety of building materials including wood, brick, concrete and roof trusses.

6 — Complete Your Order

Checkout and provide your contact, shipping address and payment information. Standard Sized Shade Sails ship within 2 business days. You'll receive a tracking number once your order is on its way!
PLAN WITH A PRO
Shade Analysis & DesignServices
Our Shade Analysis & Design is the best way for you to not only visualize your next project but it's also the best way for you to analyze just how much shade will be created at different times of day or year.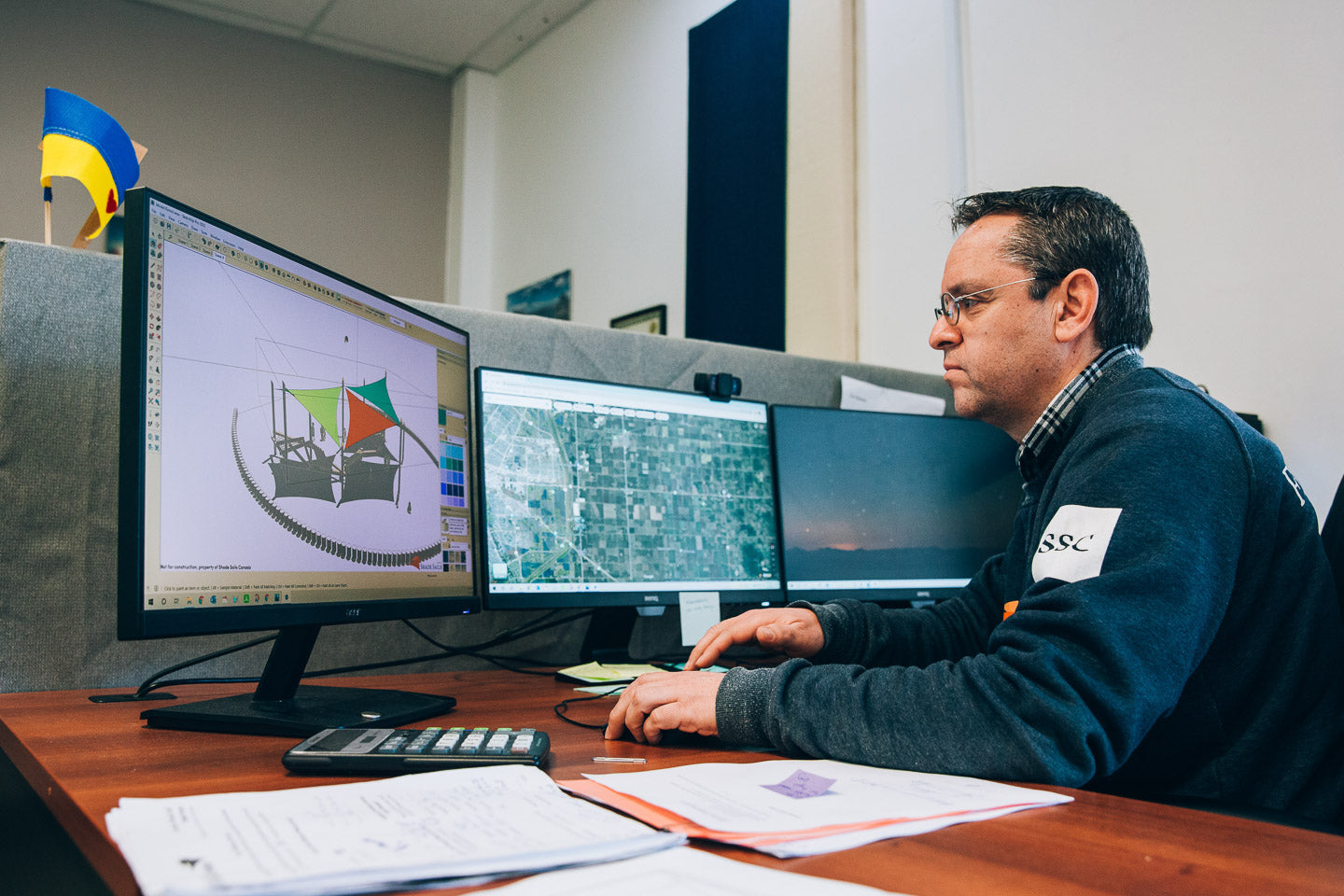 How do I tension my Standard-size Shade Sail?
In order to properly tension your Standard-size Shade Sail, you need to ensure that your corners of your Shade Sail align with your anchoring points - meaning they are as close to one another as possible without the need for cables. (If cables are needed to make up for some distance, that is fine as well but you can expect slightly more movement in your Shade Sail when the winds pick up).
The tension in your Shade Sail will come from the perimeter cabling that already sits within the fabric perimeter of the Shade Sail, and the turnbuckles inserted into the cabling system already.
The first step to ensuring your Shade Sail is set up correctly would be to ensure your cable clamps are tight against the cable. During installation, you would have already tightened these, but it's a good starting point to ensure your Shade Sail maintains rigidity. (See here for Standard-size Shade Sail installation instructions)
The second step to ensure your Shade Sail is tensioned correctly would be to turn your turnbuckles. It's important to note that the nuts on either side of your turnbuckle thread are loosened outwards first. This allows your turnbuckle to grip more thread. Turn your turnbuckle until the resistance becomes too heavy. Lock your nuts back against your turnbuckle mechanism. They should both sit flush against your turnbuckle and be tight. This ensures your turnbuckles don't turn loose in storms and that your Shade Sails maintains its tension and high-performance.
What if my points don't align with your Shade Sail's shapes?
If the distances between your anchor points, considering the fact that they should be at different heights, don't end up matching one of our Standard-size Shade Sails, you should then browse our Custom-size Shade Sails. They're custom made to fit any space and any size. For optimal performance, the corners of your Shade Sail should always connect directly to the anchor point hardware. You can use some cabling to make up for additional distance, but we don't recommend relying on this method because it allows for more movement in your sail. When in doubt, reach out to one of our Shade Architects who will be more than happy to assist you and ensure you get it right! 
How important is it to tension my Shade Sail correctly?
Simply put - VERY important! Shade Sails perform best when under immense tension. Tension allows the cabling in the perimeter of the Shade Sail to increase the Sail's rigidity, allows the Shade Sail to not crease and allows for a smooth, aerodynamic shape to transpire. This is one of the most noticeable aspects to a Shade Sail - that if tensioned properly, will experience almost no movement at all when winds or storms arise. 
Having your Shade Sail correctly tensioned also allows your Shade Sail to shed water and debris better. A Shade Sail that is not under tension is too vulnerable to pooling water, leaves or whatever else might find itself atop your Shade Sail fabric.  The video below illustrates how you can ensure that your Shade Sail is not only installed correctly but is tensioned properly too.
Unique, quality shade
My permanently parked 5th wheel awning broke and was irreplaceable. It was suggested that I consider installing shade sails as an alternative. I began researching the many companies and came across Shadesailcanada based in Revelstoke. After watching all of the very informative utube videos, I determined without a doubt that this company was the one. The team was so helpful offering their expertise through out the installation process. Once installed the compliments started coming! As well, a few sailing enthusiasts commented on the high quality of the hardware. All in all I am confident I made the right choice and it stands out esthetically! Thank you Chris and team for all your expertise and proffessional service. You rock! Bonus Canadian company!
Triangle Sails - 12.5'x9'x9'
We purchased one sail in early August and were so pleased with the quality decided to purchase a second sail. Superior hardware, quality of sail fabric and colour selection all five stars. We shopped every company imaginable and are extremely satisfied with our purchase.
Thank you Nancy! We are so glad that you love your Shade Sails!!
Excellent service and quality!
I bought my first 2 natural coloured triangle sails from Shade Sails Canada in 2014, enjoyed them so much at that house. When I moved to my new house I put them up but found they were not enough for the large space. I purchased a larger natural rectangle sail,when it arrived I found that it was a different beige/yellow tone "natural" as opposed to the white "natural" of the previous manufacturing years. But lovely Gavin at Shade Sails Canada helped through the process, offered a return if I decided it was not right. In the end it made a minimal difference and he offered advice on how to install them. I was also very happy to learn he was a fellow South African as I am!
All in all, fabulous company, they stand by their products!!
Thank you for your continued support! Glad to hear everything worked out the way we'd planned. Enjoy your shade at your new home! Gesondheid!
Please send us photos if you can!
Great
The customer service has been excellent. They have gone above and beyond to make sure I am happy with the order.
Appreciate it Max! Glad to have you as a customer.
Happy Customer
I'm very happy with both the customer service I received and the product that arrived, in a very timely manner I will add. The team did a great job of helping me understand the installation process and that I was ordering the proper installation hardware/material. Would recommend this product to anyone.
Thanks Craig, we're happy you're happy ;) Enjoy your summer!