Anchor Point Hardware
The Anchor Hardware you choose depends on what you are attaching your Shade Sail to. We always include the tensioning hardware that is required to attach your sails to your Anchor Hardware, but because every installation is unique Anchor Hardware is not included and must be purchased separately. 
You can explore the various types of Anchor Hardware below. Each piece has been individually sourced from around the world and specially chosen to perform exceptionally under all weather conditions for years to come.
All of our products are quite simply the best you can buy.
316 Marine Grade Stainless Steel

High load rated

Range of sizes 

Hand-picked for exceptional design and durability

Accommodate a wide range of installations
tensioning hardware
What's Included?
All of your Tensioning Hardware is included in your purchase of every Shade Sails Canada product. This includes our Marine Grade Stainless Steel perimeter cabling, cable clamps, turnbuckles and shackles. This differs from Anchoring Hardware - which we cover in the next tab! 
Shipping is also included for all orders over $500 CAD, and every Shade Sails Canada product is shipped in its own winter storage bag.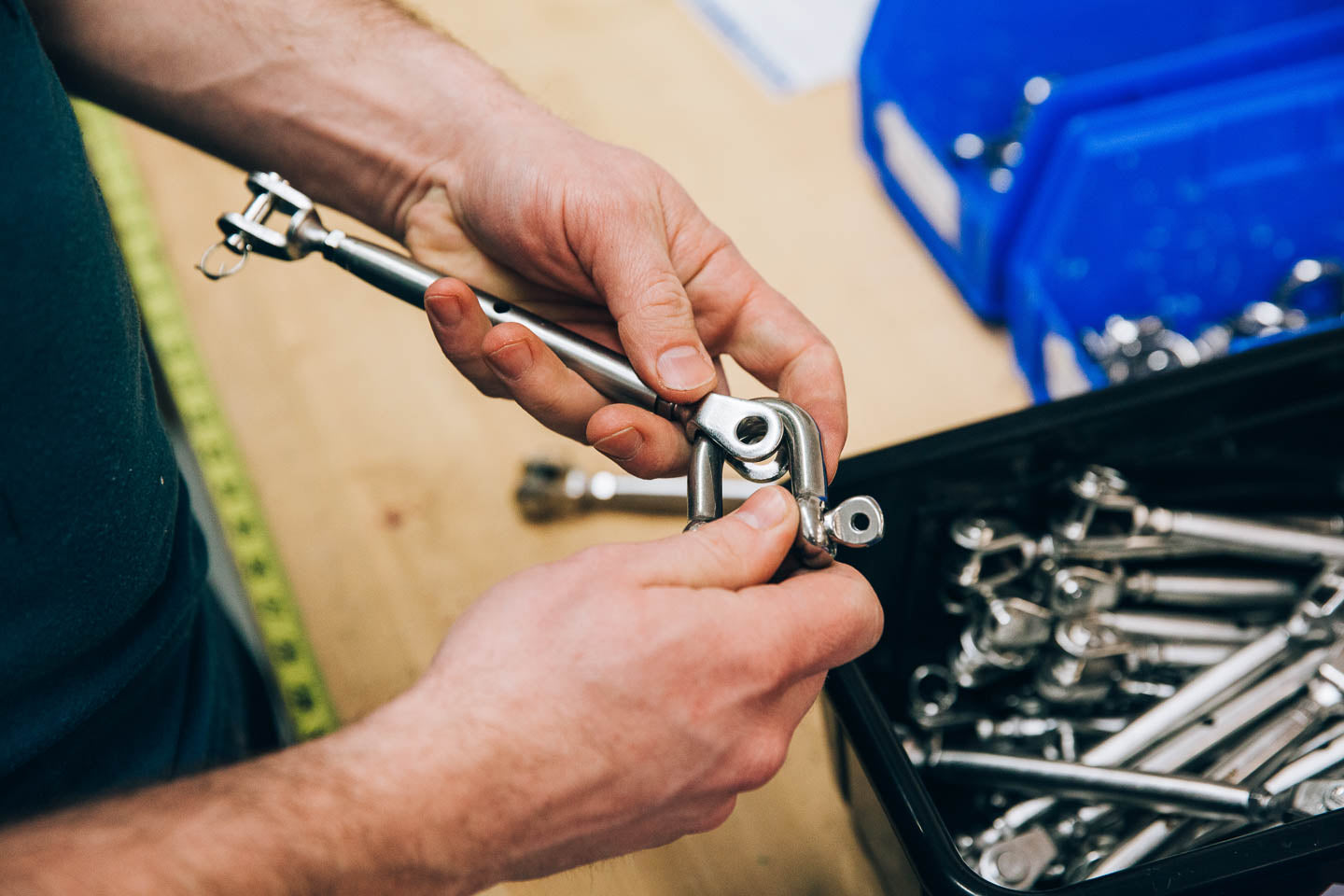 What is Anchor Hardware?
Anchor Hardware is what any shade system attaches to. Every project is unique whether you are attaching to a brick wall, a corner soffit or a wood post. Anchor Hardware is critical to maintain the tension of your Shade Sail for many years.

At Shade Sails Canada we offer a broad selection of the highest quality Marine Grade Stainless Steel hardware for almost any application.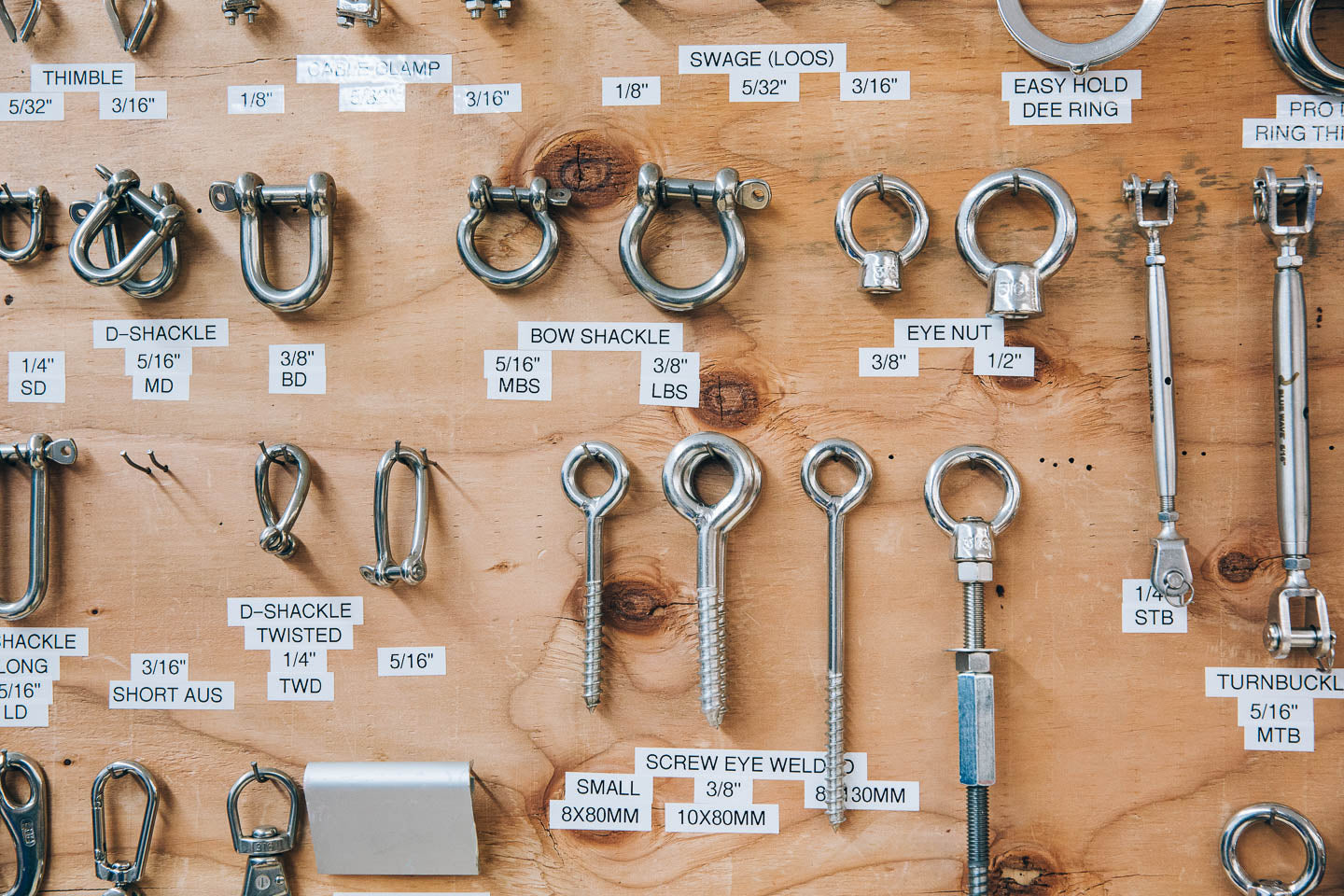 Maintenance
Your Shade Sail & Hardware is designed to perform for years with minimal maintenance. We recommend annual cleaning, inspection and lubrication of hardware threads each fall before storing for the winter.
If you'd prefer maintenance-free peace of mind, we recommend our popular Drop & Fly service. Click here for more details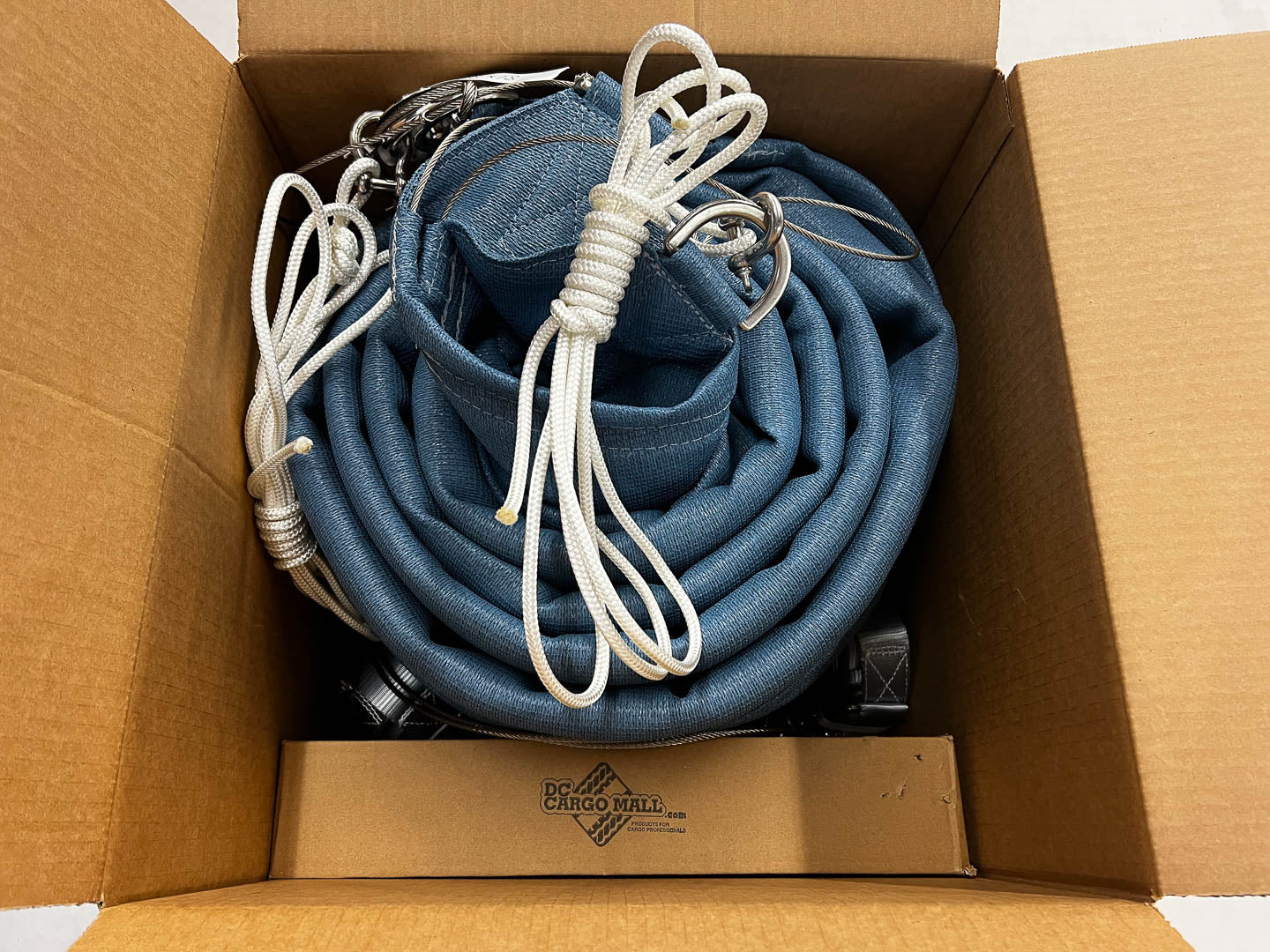 Warranty
Our Shade Sails Canada warranty extends to all our customers, both residential and commercial. Our Shade systems are extremely strong and durable, but are only as strong as your anchoring points. This is why we provide you with only the best 316 Marine Grade Stainless Steel Anchor Hardware - imported from Denmark and Australia, and rigorously tried and tested.
Want to know more? Read up about the terms and conditions of our warranty.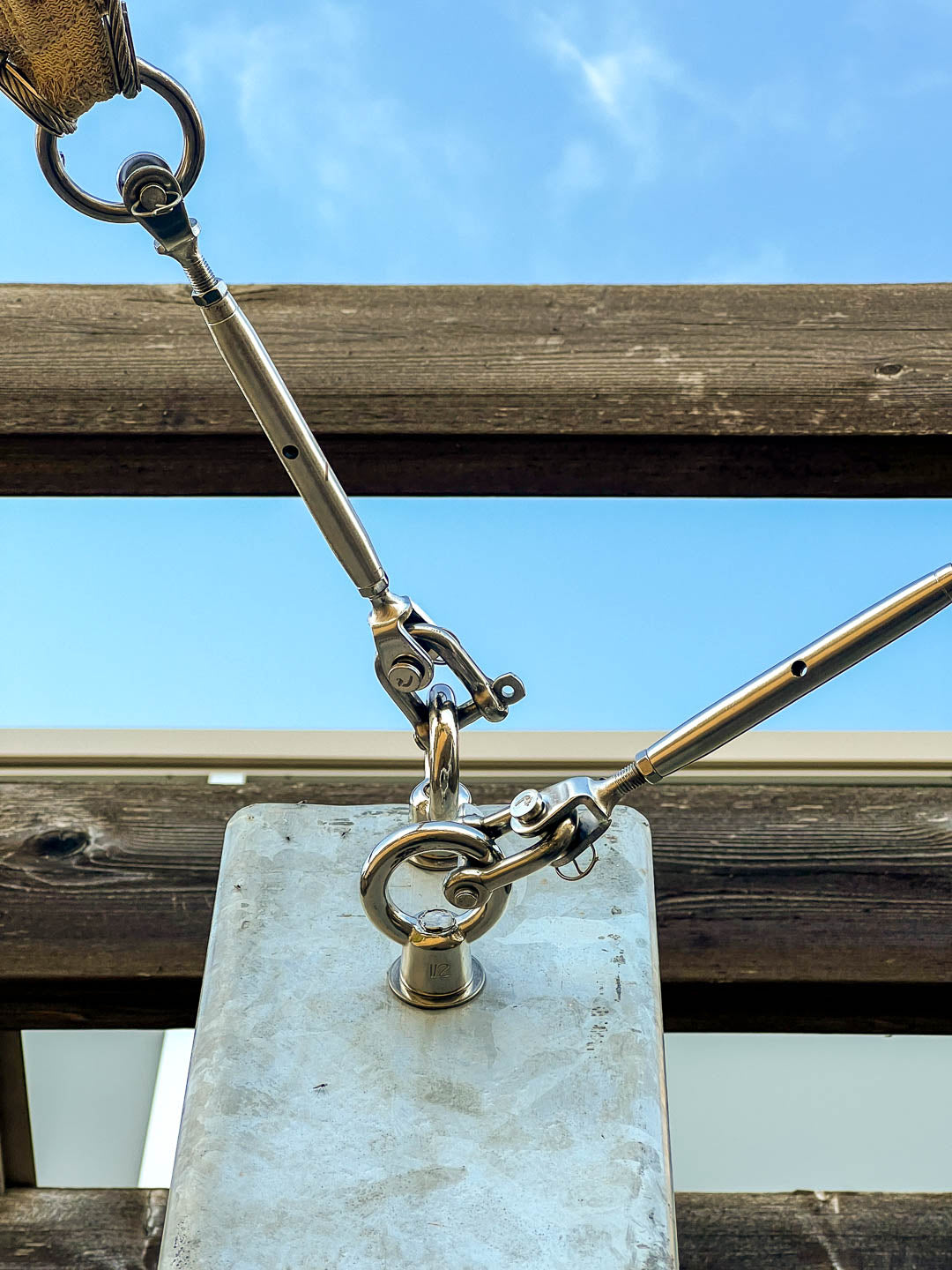 Frequently Asked Questions
What is the appropriate hardware per material type?
This is one of our most frequently asked questions! There are so many different applications that various hardware can be used for and still be very effective. We've created this video to provide an overview of what hardware you can expect with your products, what sorts of hardware we provide as anchors to your Shade Sails Canada products as well as the various scenarios and applications that our hardware can be used in.
Why do you use 316 Marine Grade Stainless Steel?
316 marine grade stainless steel has excellent resistance to a wide range of corrosive environments, making it a suitable choice for use in marine applications. It is a hardy and strong material that is resistant to wear and tear, which makes it an excellent choice for use in marine equipment and structures. 316 marine grade stainless steel is also non-magnetic, which is an important property in certain applications where magnetism can be problematic. It has excellent high temperature resistance, making it a suitable choice for use in applications that are exposed to high temperatures. As it is highly resistant to corrosion, marine grade 316 stainless steel does not require frequent maintenance or replacement, which can save costs and prolong the life of the equipment.
What if my hardware fails?
In the very rare event that your hardware fails, evaluate which piece of hardware has failed and how that affects your Shading system. Make sure you contact Shade Sails Canada with photos of the failed hardware and one of our Shade Architects will be able to assist you immediately. We always have our customers front of mind and always try to make our systems as simple and user-friendly as possible without diminishing the quality of our craftsmanship and overall product quality. Safety is a big part of what we focus on, so in most cases, we would recommend you remove your fabric from its hardware to avoid further possible damage or injury.
How do I know my hardware is deep enough?
This is a great question, and very important in ensuring that your anchor hardware has enough substance to hold your product in place as well as counteract the tension and forces that are further applied to that anchor point. This 'depth' also varies when we compare wooden post applications to steel post applications. 
With a wooden post or truss, we would need at least 3" of substance to screw one of our Welded Screw Eyes into and ensure that the thread of this hardware is screwed in fully. If you have access to the back of the post or truss or pergola that you are looking at anchoring to, you can use one of our Through Bolts with a Welded Eye. This piece of hardware allows support from the back using a lock washer, lock nut and acorn nut.
With steel posts, wall thickness is one of the most important factors when determining the strength of the structure/post. We recommend a wall thickness greater than or equal to 0.25" in order to avoid any future deflection as a result of the tension in our products. Through Bolts with Welded Eyes are our most commonly used hardware in steel applications. 
I live on the ocean. Is my hardware going to rust?
As long as you use our hardware to anchor and tension your Shade Sails Canada product, your hardware will not rust. We use high quality 316 marine grade stainless steel, which is an extremely durable and corrosion resistant metal, most frequently used in the marine industry. 316 stainless steel is used to protect ships from the harsh elements of the ocean, for example. If you live oceanside, there isn't a better, more reliable metal to use than our 316 marine grade stainless steel hardware.
What is the difference between Spare Hardware and Anchor Hardware?
Spare Hardware pertains only to the marine grade stainless steel that we include in your Shade Sails Canada product in the production line. Turnbuckles, d-shackles, perimeter cabling are all included in your product already, but should you need spares or want to purchase more of our high quality hardware, you can still do so. Shop Now
Anchor Hardware pertains to the hardware that you will anchor to your surface, wall or post in order to attach your Shade Sails Canada product to. The type of hardware you use to anchor your product depends on a variety of factors, namely; the type of material you're anchoring to, the depth your anchors can go and the size of product you are attaching to those anchors. All of our Anchor Hardware products are available to purchase in our store each with their own product description for you to best match your application to our hardware. Shop now.
What's so special about stainless steel hardware?
Stainless steel hardware is special because it is highly resistant to corrosion and staining, and is able to maintain its strength and durability at high temperatures. It is also non-magnetic and has a sleek, modern appearance. Additionally, stainless steel is easily recyclable, making it an environmentally friendly option for various applications.
My turnbuckle seized. What should I do?
A seized turnbuckle can be treated by using penetrating oil, such as the Turnbuckle Grease we provide you with in every product we sell, to loosen the corrosion or rust that is causing the seizing. Ideally, apply the grease to the turnbuckle thread before you tension it and allow it to sit for a few minutes. You can also try to use a wrench or pliers to gently turn the turnbuckle back and forth, applying pressure as needed. If the turnbuckle still does not turn, you may need to replace it.